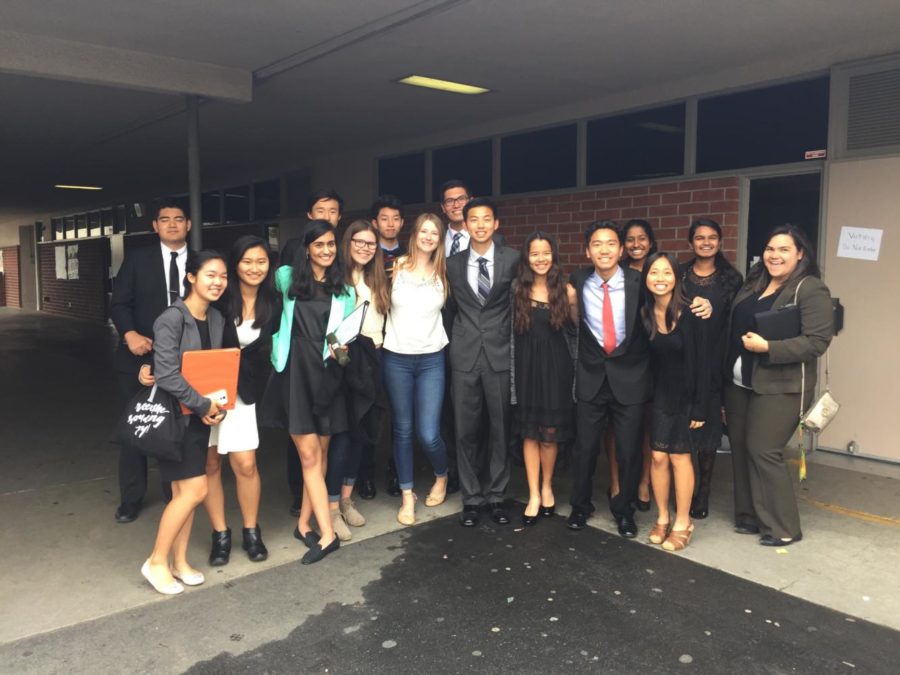 By: Chloe Rudnicki|Editor in Chief
October 5, 2017
The campus teems with scores of sharply clad, doe-eyed students conferring in hushed circles. A discerning ear can pick up snippets of conversation – Venezuela and Russia discuss the perils of the refugee crisis, France and the United Kingdom explore potential resolutions to the emergence of terrorism on the African continent, and Egypt and South Korea attack the issue of disarmament. Such is the scene before a Model United Nations conference, where students from a host of high schools gather to represent member countries, debate issues pervasive in the real world within mock committees, and draft and vote on resolutions to these problems.
For a voracious reader of history or a public speaker, these conferences present the ideal opportunity to push oneself to improve in an an environment of like minded people. The climate of intellectual dynamism characteristic of Model United Nations is reinforced by the location of its conferences.  Although many of the conferences San Clemente High School attends are at high schools such as Capistrano Valley and Mission Viejo, the club also participates in BruinMUN at UCLA and Berkeley MUN, placing lively, multi-dimensional debates on world issues against the backdrop of the beautiful campus of two prestigious universities. Conferences in San Clemente's backyard are nonetheless exciting as well, with Vice President Amy Schultz sharing that her favorite experience was "going to the Mission Viejo conference, where they had  In n Out for lunch, and talking to everyone about how their committees were going."
The purpose of the Model United Nations club is to sign up students for conferences, assign countries of which they will be delegates (often in pairs), and provide guidance for students on how to write position papers, their opening and closing remarks, use the structure of a conference to one's advantage and utilize United Nations terminology within the conference. Position papers present a delegation's understanding of the issue to be discussed by their committee to the Committee Chairmen and also provides the blueprint for formulation of a resolution to the crisis. It is dependent on thorough research and provides students with the knowledge base for their participation in the conference. The typically 30-second long opening remarks introduce each delegation's position to the peers and serve as the foundation for potential alliances with other countries, whereas closing arguments can be used to persuade dubious countries to vote for one's resolution. Although successful participation demands effort, these are doable with the assistance of the club's senior leaders. Model United Nations moreover provides insight into students' aspirations beyond the conference.
Club President and Senior Marley Macarewich has been apart of Model United Nations for three years and is a veteran of multiple conferences. She finds that these events "allow us to gain and adopt a new perspective on world affairs that cannot be found in an ordinary classroom" and "provides experience for those wishing to look into politics as a future career." Beyond the scope of politics, Model United Nations serves as an effective platform for those looking to explore other globally minded careers. This club provides opportunities to hone persuasion, understanding of both domestic and foreign policy, and capacity to work effectively with strangers that may hold a contradicting position.
Model United Nations is moreover ideal for students with a varying degrees of exposure to conferences. Because the club is still relatively new, the majority of its students are novices. One may assume that for this reason San Clemente High School members aren't as effective when competing and working with more experienced students who taken MUN as a class. Nonetheless, this club has a track record for producing informed, ambitious students who perform well. Senior and MUN Secretary Chloe Patterson won an award for her Position Paper at BruinMUN sophomore year when she was competing against an international assemblage of students. She reminisces, "I was pretty excited because that was my first time really being involved in MUN, so I was proud of the hard work I put into preparing for that conference. It's also something I can put on my college application." Capacity to excel in MUN is defined not by experience but by work ethic, willingness to delve deeply into one's research, and quality of participation.
For those interested in joining, Model United Nations meets biweekly on Wednesdays in Mr. Dollar's room in P11. The club is currently preparing for this year's BruinMUN November 11th and 12th. In two weeks, the club will meet to discuss how students can draft position papers and provide any needed help along the way. A classroom mock-debate on modern day slavery will also be taking place. Contact Marley Macarewich or Amy Schultz if you want to participate at the upcoming conference. It's never too late!