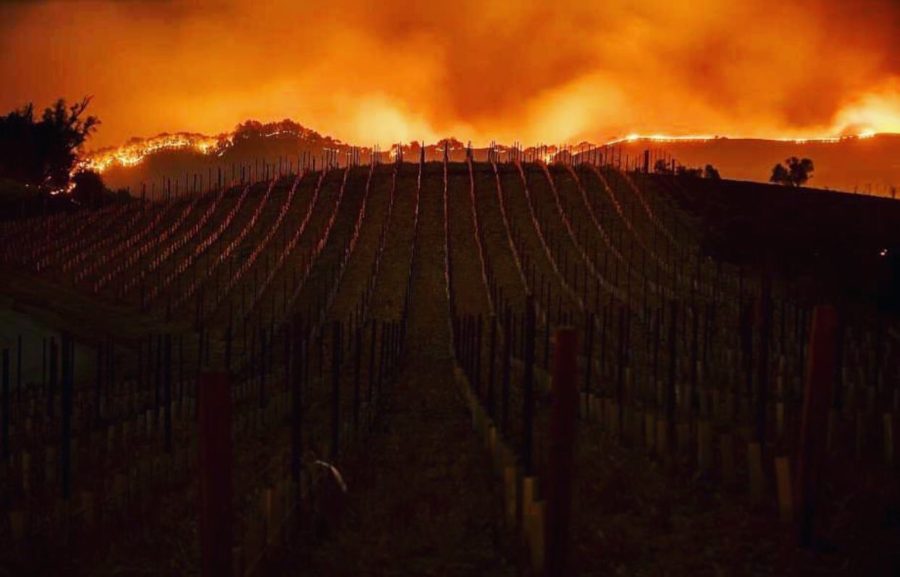 By: Sydney Burns | Writer
October 12, 2017
This past Sunday, October 8, an outrageous wildfire struck California's wine country. The flames first sparked at around 9:45 pm in the county of Butte, then quickly spread to Napa, where it rippled throughout the county. Mendocino county and many others are currently being terrorized by the flames, causing a total of 20,000 people from eight separate counties to evacuate from their homes. Along with the immense amount of people that are being evacuated, at least 24 are deceased, with over 180 pronounced missing.  As of now, over 5,7000 structures including homes, and businesses have been destroyed. The fire has shown no signs of stopping, varying from 0%-100% in containment throughout the eight counties. The lives of many have been obliterated, childhood memories, homes, and workplaces turned to ash.
Although the cause of the fire is unknown, firefighters have alluded to the reason of 50 MPH winds partnered with dry vegetation. Once the fire began, the wind only fueled the spread of the flames from county to county. Carli Norman, senior at San Clemente High School added, "I have family that live in NorCal that are being effected from the fire. Their workplaces and homes have been destroyed, leaving them with nothing."  With the devastation of the fire, burning businesses and homes, many will be left homeless and/or unemployed. "The amount of lives that have been damaged is immense, and I want to know how I can help," Anna Putnam said, a senior at SCHS. Although many feel that they are unable to help the people of NorCal from so far away, the power of a dollar is strong when many donate to a cause.
Luckily, there is a way that we can help. Two 12th grade high school students, Tiffany Cevatli and Kendria Pittman, have created a GoFundMe fundraiser that is assisting the people of Napa with medical aid, food, and shelter. Kendria Pittman is originally from Napa, which drove her to start the fundraiser. "Many of my friends currently live in Napa and it broke my heart to see their families in so much pain due to the fire. After seeing photos and hearing the stories, I started the GoFundMe to ensure that they were going to be okay. " Pittman stated. Although many lives have been damaged, by supporting the cause and donating, lives can be saved. With the GoFundMe proceeds, many will be protected and nurtured back to health.
To find out how you can help, visit https://www.gofundme.com/victims-of-the-napa-valley-fire