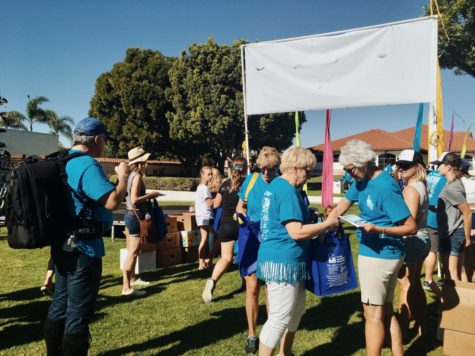 By: Meghan Byrne | Writer
October 19, 2017
If you were in downtown San Clemente this Sunday, you may have noticed a crowd of people clad in blue shirts walking up and down the streets. These were participants in the 30th Annual Hunger Walk, organized by an Orange County nonprofit group called Family Assistance Ministries (abbreviated as FAM). FAM provides a wide variety of services to needy families in the Orange County area, including homeless services, living assistance, and case management services like job search coaching. The group aims to help needy families through long-term solutions, addressing their problems at their core rather than offering a short-term fix; their philosophy follows the rhetoric of "Give a man a fish, feed him for a day; teach a man to fish, feed him for a lifetime."
The goal of the Annual Hunger Walk is to raise awareness about hunger in South Orange County and show support for the cause of ending hunger. In order to receive a t-shirt for the walk, participants had to register for the event and pay a fee — $25 for adults, $10 for children and teenagers, and $5 for pets. Proceeds from the event are used to provide material support for those experiencing hunger in the local area, such as homeless people or those struggling financially to make ends meet.
Participants at this year's Hunger Walk enjoyed festivities at the Community Center  prior to the walk, where there was live music and local businesses such as Southswell had carts and tables set up to sell their goods. The event also coincided with the San Clemente Art Gallery's hours of operation, providing another source of foot traffic through the area. At 2 PM, the walk officially began, winding a path in a T shape up Avenida Del Mar, turning south down El Camino Real, then turning around, continuing north up El Camino Real, and eventually returning to the original starting location near the library.
Though it was hot outside, participants in the Hunger Walk remained cheerful. Near Ralph's, as the walk looped around to head back north, volunteers offered water bottles and words of encouragement to help boost morale. "Walks and events like these show and help us as a community to come together and strengthen our bonds to one another and make it so that no tough time is too much for all of us to handle," says Kerry Maresca, a participant in this year's walk.
"When I first did the Hunger Walk, my initial thought was that it was literally feeding people, but in reality there is so much more to it. Not only are you giving people the resource or food, but everything they need in that moment, like life," explains Jackie Arredondo, a junior at San Clemente who has participated in the Hunger Walk in years prior.