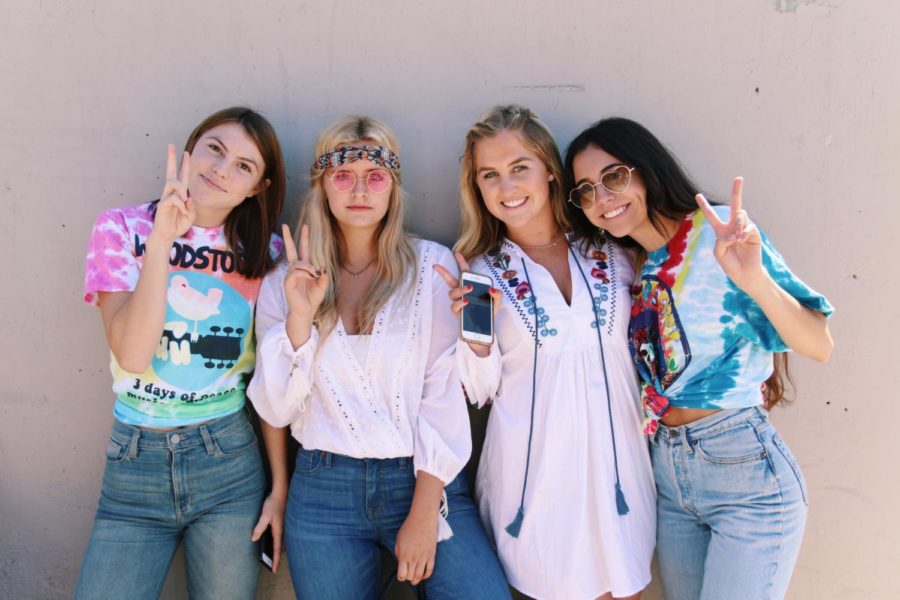 By, Claire Vlasic | Writer   &   Makena Spencer | Writer
October 12,2017
Senior year is the final chapter of our San Clemente High School careers before college appears, so what better way to celebrate these little moments than participating in exciting school events with friends. This past week has been full of fun as the senior class dresses up for different theme each day of the week. The themes for senior week this year included, Mommy and Daddy Monday, Hippie Tuesday, Knotts Field-Trip Wednesday, Country Thursday, and lastly, Pajama Friday.
The turnout has been amazing  as the 2017 senior class "strutts their steps" and represents our school in high fashion. Being involved in school events brings the classes together and provides a sense of relief in knowing that school can in fact be fun and not busy work 24/7.  It is important to capture all the little memories before a new chapter of our lives begin, and spirit week was just one of the many ways to do just that.  Below is an interview with senior Sidney Giles, ASB Historian, and her input about this week of events and how each day was constructed by the ASB team.
How did ASB decide the themes?
At least once a week all the ASB seniors get together to talk about what's coming up, so a few weeks before the dress up week we all met together and gave our best ideas. Going off ideas we saw at ASB camp and halloween costumes we always love, we decided on the four themes that we thought would be easiest and fun for people to dress up to.
Personally which day is your favorite for senior week?
My favorite day was mommy and daddy day because it was super funny to see what everyone interpreted as a mom and dad and how everyone was really excited about it even to the point of faking pregnancy. People brought fake babies, strollers, and I think it is the most all out everyone has gone on a dress up day so far.
Why do you think it is important to do senior spirit week?
Senior week is super important because it helps to bring everyone together before we go off to college. It also shows the lower classmen that it's awesome to have school spirit and participate in all the school events. Freshman, sophomore, and juniors usually look up to the seniors and it is important for the upperclassmen to be fun examples for those kids.
Is there a plan to do any more fun activities like this in the future?
Yes, we have another dress up week the week of homecoming for all grades, and another senior dress up week during second semester. We also involve dress up themes at the high school football games for all the grades and it has made them so much more fun.
How do you guys try and get as many people involved as possible?
We hang up posters, post on social media, make announcements, and make promo videos to give people ideas of what to wear. ASB tries to go all out so other people will follow because if everyone gets involved it will make it so much more fun.
Senior Week is a great way to represent school spirit and have a week dedicated strictly to the senior class to have fun. Making memories before college will help keep close bonds with fellow classmates and create memories which will last a life time.