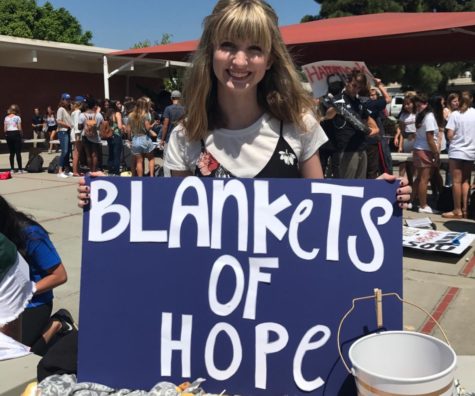 By: Courtney McDonald | Writer
October 12, 2017
Beginning last year, a club called Blankets of Hope was formed by juniors Chandler Eldridge and Macy Smith in order to help all kinds of groups from animal shelters to victims of natural disasters. The club, consisting of about 45 members, meets at lunch and makes no-sew blankets. The blankets made by the club are then donated to various places where they are used for comfort.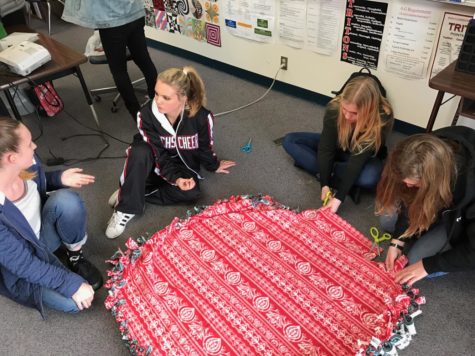 Eldridge, president of the club, said that Blankets of Hope started as a way to "help give back to our community" and has developed into a great program that does just that. So far, the club has donated to organizations such as the OC Rescue Mission, the local pet shelter, a military baby shower, and most recently, to the victims of Hurricane Harvey. Over 25 blankets have been donated to these different groups.
Although it may seem like a daunting process, making the blankets is not hard. "All we use is fleece and scissors!" Eldridge explained. It is a no sew process, and both of the girls "teach everyone how to cut and tie them correctly at the beginning of the year." The blankets are made with two large squares of fleece stacked on top of each other with very small squares cut out of the corners. Next, the fabric in between the cut-out corners is cut into several sections, each about 1 inch wide and 4 inches long. The sections from both blankets are then tied together and, ta-da! The blanket is finished.
"I think it's really amazing that we have such a fun way to give back!" Smith, vice president of Blankets of Hope, spoke happily. The club, she elaborated, acts as a way to make something as fun as arts and crafts into an act of kindness that gives back to the community.
Eldridge, reminisced on when she first started making blankets, speaking of how she first started making blankets "in middle school to get community service hours" and how it eventually became something she wanted others to experience. "When I got to high school," Eldridge recalled, "I decided to start a club so my fellow classmates could give back to the community."
Meetings for the club are most often the 1st and 3rd Wednesday of each month in Ms. Beckley's room, and meetings involve groups working on up to two blankets in a lunch period. Blankets of Hope is a fun and easy way to help both local and global organizations and impact many lives.
Eldridge added, "Being able to make and donate more blankets than I could just by myself has been amazing. I have also enjoyed finding new organizations we can donate to. This club has helped to develop my leadership skills and I have loved making new friends along the way."
Through the simple task of making no-sew blankets, Blankets of Hope has made donating to the community a creative and fun process.