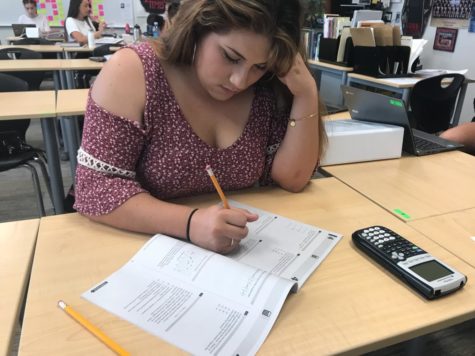 By: Lucy Terry | Writer   &   Savi Raghuraman | Writer
October 12, 2017
On October 11th, freshmen, sophomores, and juniors all over the Capistrano Unified School District took the PSAT/NMSQT, which is less commonly known as the Practice Scholastic Aptitude Test, or National Merit Scholarship Qualifying Test. Many students thanked their lucky stars at the news of a minimum day, but some juniors buckled down and began studying in hopes of being one of the select few to qualify for the acclaimed National Merit Scholarship Program.
The PSAT is a beast within itself. Essentially, it's a practice test to help develop a student's test-taking skills and intellect before they take their other college entry exams, the SAT and ACT. It has four sections, which are taken over the span of just over three hours: reading, writing and language, math without a calculator, and math with a calculator. In past years, students had to pay a fee for this valuable experience and schedule it on a weekend. Last year and this year, however, SCHS students have been fortunate enough to take their PSAT for free and on a school day.
The National Merit Scholarship Program actually has three different scholarships. One of them is the National Merit Scholarship, which is the most prestigious and well-known. The other two scholarships are the College-sponsored Merit Scholarship and the Corporate-sponsored Merit Scholarship, which both offer cash rewards students can allocate towards their college education.
While freshmen, sophomores, and juniors can all benefit from practicing their essential academic skills on this test, only juniors can qualify for these exclusive scholarships. To actually win a scholarship, one must be in the top 1% of scores. Approximately 50,000 students score high enough to qualify for this elite opportunity. Of these 50,000, around 34,000 students are sent a letter recognizing them as commended students. From this original 50,000, 16,000 students are then notified that they've become semifinalists. Another 1,000 students are eliminated, and 15,000 students are told that they've moved up to the finalist standing.
Finally, 7,500 students are granted the National Merit scholarship after an intense deliberation. This competition singles out this final group from the initial 1.6 million entrants and recognizes them as some of the most accomplished student minds in the country. So if a student wins this scholarship, it'll beef up their college résumé.
So,which students at San Clemente High School are vying for a spot amongst the best of the best?
Spencer Currie, dedicated scholar, swimmer, and 11th grader at SCHS, is one student who devoted his time to preparing for this test. "I studied for maybe 45 minutes on Khan Academy doing practice tests with the free SAT prep they offer," Currie said. "I felt that this practice helped me to realize what I needed to improve on for certain parts of the test. I was able to brush up on types math I hadn't done in a while and get myself in the mindset of reading the passages efficiently."
When asked his thoughts on his performance after the test, Currie replied, "I feel good about my answers and know that I tried my hardest, so hopefully I did well enough!"
While some students take this test in hopes of competing in the National Merit Scholarship Program, others use this test for its more practical, fundamental purpose: preparation for the SAT. These students take a variety of approaches to the test. Rachel Browne, a junior, remarked, "Everyone has their own methods. I'm not going to study because I consider this my practice SAT." After seeing her score report this December, Rachel will know what skills she should focus on improving before the "real thing."
We can all agree there is another reason to take the PSAT. "I'm just looking forward to the PSAT memes," said Foster Poling, 11. "They gave me a good laugh last year."
The PSAT/NMSQT was undoubtedly a big event at SCHS. As students arrived in their testing rooms with No. 2 pencils sharpened and ID cards at the ready, little did they know they were taking another step toward their fast approaching college futures.