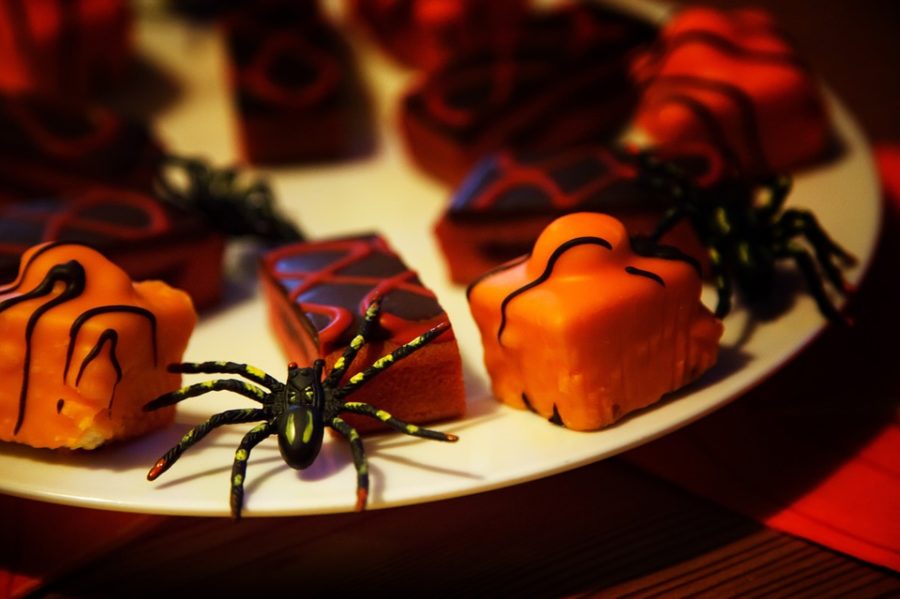 By: Morgan Creek | Opinion Editor
October 13, 2017
With the 31st of October just a couple weeks away, the excitement for Halloween is ever increasing- talk of cute costumes, house decorations, and upcoming parties have been filling the halls at SCHS. So, to add to the eager anticipation for this spooky day, here are some scary-good Halloween recipes. Whether you're looking to bring your party to the next level, or just looking to have a little more Halloween spirit, these Halloween-themed recipes are sure to and bring a little extra spooky magic and fun into the coming weeks.
These fun treats include cakes, cookies, sodas, dips, snacks, and pizzas, and include something for everyone. They can offer a range of food for a huge Halloween party or just a small family gathering. And, these foods are not just fun to look at, but they are also delicious! Maddy Wilhelm, a senior at SCHS, has tried the Graveyard Moose Cup, stating, "It's delicious! It's really rich and chocolatey and has just a bunch of yummy things. On top of all that it's super cute!!"
Halloween-enthusiast Adriana Rivas also comments on these yummy treats:
"Halloween is probably one of the most fun holidays out there. And it's only one day, so why not show your spirit every day of October! I'm not even good at cooking, but I LOVE making Halloween food. There are some super fun and easy recipes on this list (I have made some already)- I highly recommend making them while October lasts!"
If cooking really isn't your forte, have no fear! Most of these recipes are pretty simple, and a lot of them require no actual cooking. But, just for good measure, I did throw in some more difficult recipes for our seasoned chefs out there. Try the Spiderweb Cake, Jack-O-Lantern Bowls or Poison Apples if you're looking to challenge your cooking skills. But either way, these 16 recipes are sure to be a blast to make for both young and old alike: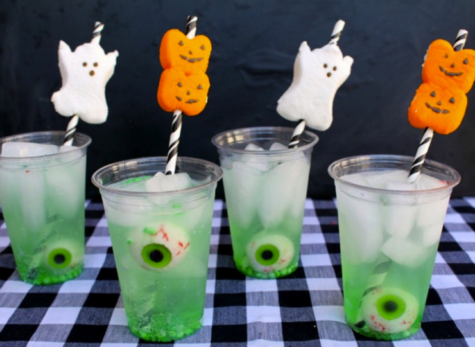 These fun drinks are sure to up your Halloween game at any event! And, you can make them in less than five minutes. Pour a cup of sprite over ice in a clear solo cup, then and some green pop rocks. Then, add a gummy eyeball (maybe even some gummy worms?) to really spookify your drinks! If you want a little more flavor, add a scoop of lime sherbet at the end. Lastly, use a Halloween-themed straw with a Halloween Peep to finish off your witch's brew.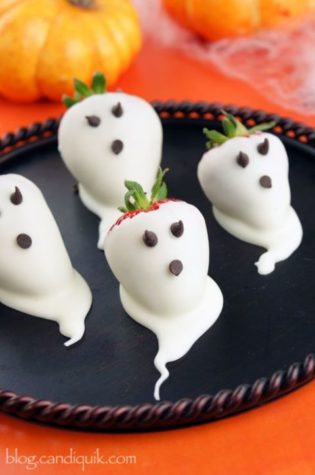 One of the easiest recipes on this list, these strawberry ghosts only have two steps! First, dip strawberries into melted white chocolate, then let them drip a little in the shape of a ghost trail before placing them on a flat surface. Then, once the chocolate has hardened a little, as chocolate chips for the eyes and mouth. Place them all on your serving platter and you're sure to have a haunted party.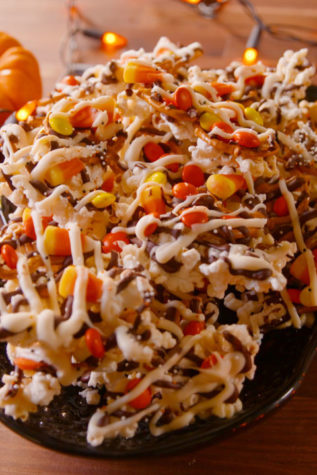 This monster munch is one of my FAVORITE Halloween snacks. It's quick, delicious, and super in the season! It's simple- layer kettle corn and pretzels in a large dish. Then add Halloween M&M's, sprinkles, and candy-corn (I mean, the candy-corn is obviously optional) on top. Drizzle melted white and milk chocolate on top, and voila! You've got a snack for sweet-tooths and and savory-lovers alike.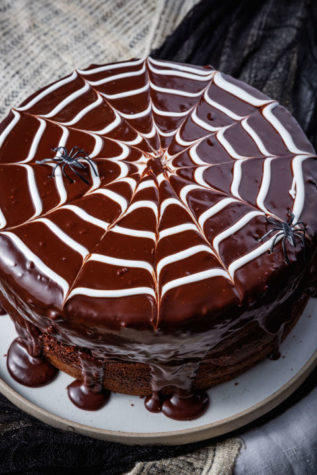 While looking extremely advanced, this cool-looking spiderweb cake is not as complicated as it may seem. It pretty much comprises of a rick chocolate cake and large amount of dripping chocolate icing. Then, pipe white icing in circles around your cake, and use a tooth-pick to draw out the spooky spider webs! Add a few fake spiders on top to really embellish this delicious cake.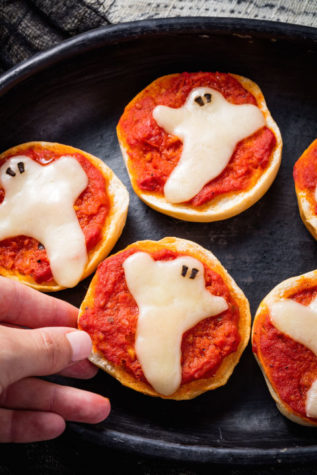 A more savory item, the ghost pizza is a super quick recipe. All you need is English muffins, red sauce, and slices of mozzarella cheese. Make the cheese in the shape of a ghost, layer it on the pizza base and sauce, then pop in the oven! Loved by kids and adults alike, these mini-pizzas can be served as snacks or a main dish for any crowd.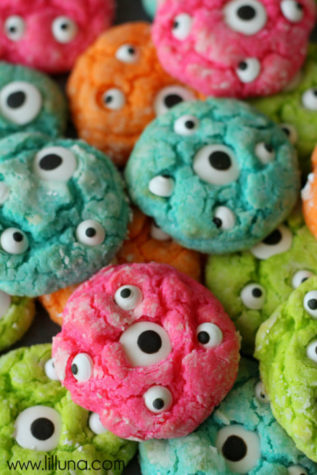 You may have never guessed, but these "cookies" are actually made of cake batter! Topped with crystal sugar and candy eyes, these bright and color cookies are sure to grab the attention of your fellow partiers. Use a variety of food coloring to make a diverse collection of monster friends.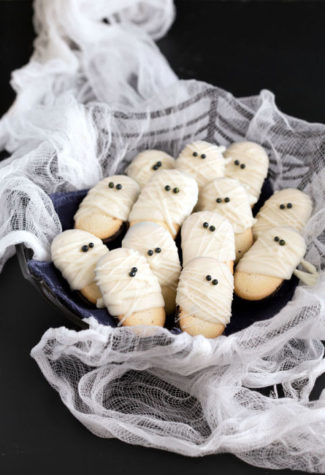 One of my personal favorites, these mummy Milanos are as quick as they are cute! Take an milano flavor you'd like, dip it in melted white chocolate, and then use a spoon dipped in the same chocolate to drizzle "mummy wrap" lines. Add two sprinkles for eyes and you're all set!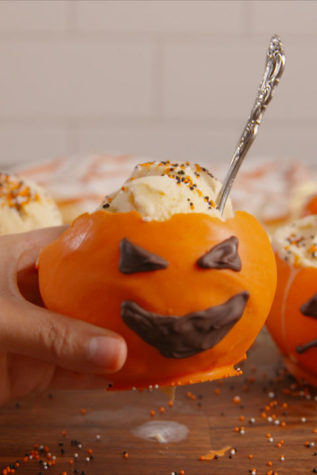 I won't lie, these edible ice-cream bowls are probably the trickiest treat on this list. But, if you're looking to challenge yourself, you'll love making them! To make these Jack-O-Lanterns, inflate a small balloon (yes… a balloon) and dip it into melted, orange-colored white chocolate. Let dry, then use regular melted chocolate or chocolate icing to make the face. Keep in the freezer, and when you're ready to serve, scoop your desired ice cream inside, and embellish with some Halloween sprinkles. A show-stopper? I think yes.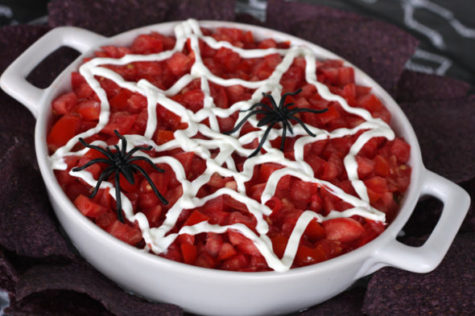 These highly-inventive dip is a great party food and also super customizable. You can choose any dip you'd like, as long as the top layer consists of a red food such as tomatoes or strawberries. Pipe sour cream in the form of a spider web on top, add some plastic spiders, and you've got yourself a spiderweb dip!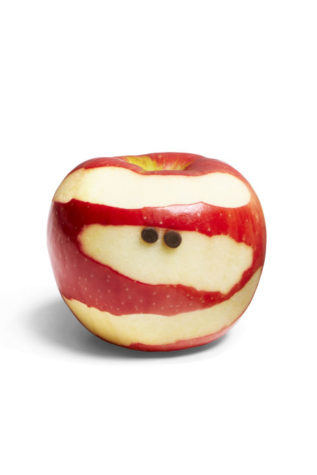 Probably the easiest recipe on here (if you can even call it that), this cute lil' guy only needs three things: apples, a peeler, and chocolate chips. Peel three or more slices on your apple with the peeler, then stick two chocolate chips in for eyes. Make a few and you've got yourself an harmless little army of apple mummies!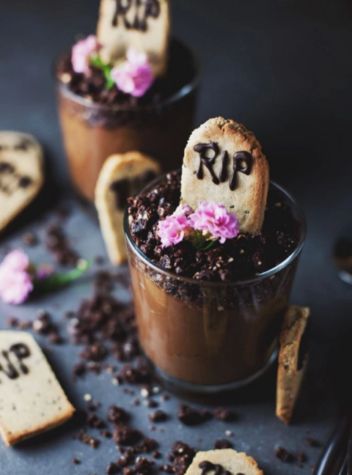 For this surprisingly happy graveyard, place chocolate pudding or moose in a clear container. Then, mix crushed Oreos and graham crackers to place as dirt on top. After writing "RIP" with icing on a milano or flat biscotti cookie, place the cookie halfway inside the dip. If you're feeling really fancy, put some edible flowers in front. You can customize this recipe by making a large graveyard, adding gummy worms in the pudding layer, and adding candy pumpkins on the top for a complete look!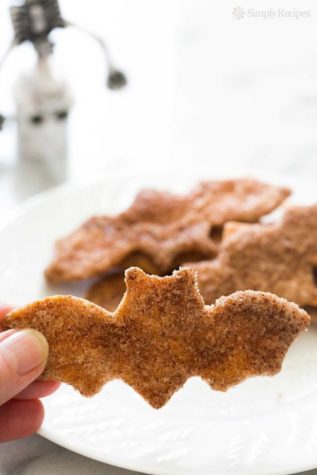 These are churros in the form of cookies in the shape of bats. Delicious, easy, and super cute. With their simple base and yummy cinnamon-sugar coating, you won't be disappointed with these fun and different cookies.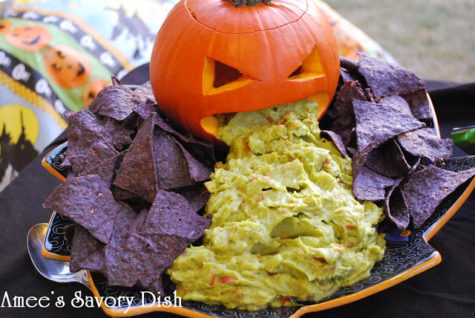 If you're feeling like doing a little extra pumpkin-carving this Halloween season, this recipe is for you! It's pretty simple- carve a small-sized pumpkin in the form of a face, then place your favorite guacamole coming out of the pumpkin's mouth. Add a few chips around the sides and you've got yourself a slightly-gross but more comical side dish.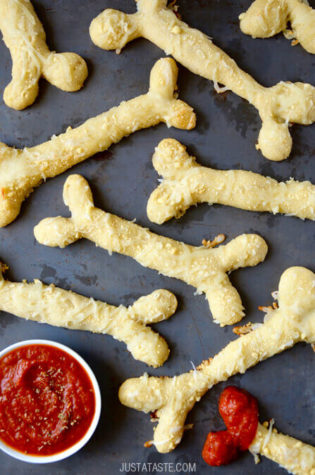 Bone bread sticks- it's genius! These bread sticks are absolutely delicious and rather simple- make the dough in the shape of a bone, sprinkle some shredded cheese on top, then bake in the oven. Use a little marinara sauce for some added flavor, color, and gore to your dish.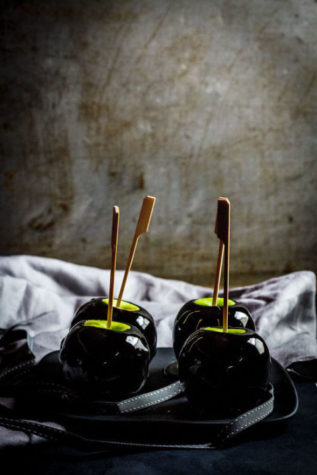 These show-stopping apples can really add an eerie feeling to your party- and, they're super quick to make! Make a melted sugar-caramel mix, add a few drops of black food coloring, then dip your skewered apples in for a very sinister version of caramel apples. But on a real note- are we sure these apples aren't poisoned?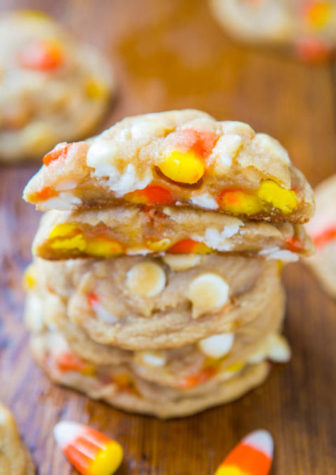 We've all kind of established that most people don't like candy corn. So what to do with all those cute but not so delicious candies? Make these cookies! Surprisingly scrumptious, these buttery and melt-in-your-mouth cookies will make you have second-thoughts on your aversion towards these tri-colored candies.
Happy Halloween everybody!!