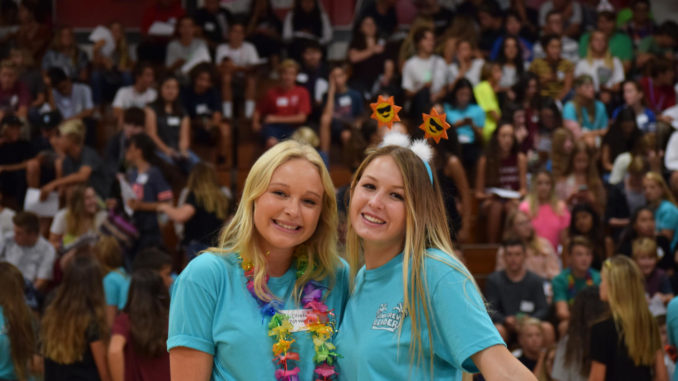 By, Zoe Day | News Editor
October 16, 2017
The mere thought of trading the comfort of middle school for the vast abyss of high school sounds intimidating for any student, and the fact that the San Clemente High School campus is home to over 3,000 students often increases eighth grades' apprehension for the coming school year. Over the summer, the same students that ruled the school at Bernice Ayer, Shorecliffs and Vista del Mar Middle School stress over the stereotypical high school scenarios illustrated in movies— how will they know where their first class is? Where will they go for lunch? Will the teachers be mean? Will they end up in bottom of a trashcan, courtesy of a big, scary senior? Luckily, a team of San Clemente's greatest and most spirited upperclassmen have come to the rescue as Link Crew leaders.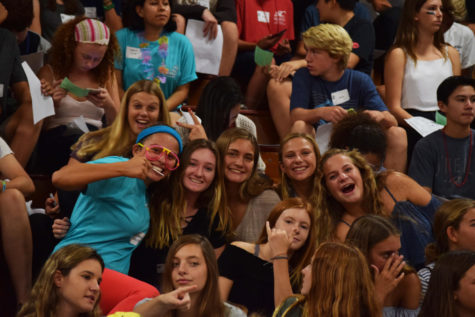 Many freshmen resembled deer in headlights when their parents dropped them off at freshman orientation just a week before the first day of school. Unbeknownst to the freshmen, the Link Crew leaders were prepared to welcome the newest Tritons with games, music, activities, and a campus tour. The freshmen were quickly swept into a sea of their fellow peers, guided by the cheering of their new Link Crew leaders. The Link Crew leaders reassured the freshmen about the coming year by answering their questions, showing them around campus, and reminding them that San Clemente High School is an incredibly exciting campus full of diverse opportunities. San Clemente High School has always been a welcoming place, but Link Crew has helped encourage freshmen to take advantages of opportunities and to make the best of their high school experience.
Every summer, Link Crew leaders complete a variety of training courses to prepare them for the next incoming class of freshmen. Every freshman is assigned two Link Crew leaders, composing groups of about 15 freshmen for every two leaders. This intimate group bonds over the course of the year through events such as tailgates before football games, movie nights, and a new Transfer Breakfast. Link Crew leaders are there to offer freshmen advice about classes, friends, midterms, and other obstacles that high schoolers face.
As the oldest of her siblings and the first to enter SCHS, Carni Campbell, now a senior and president of Link Crew, remembers having little guidance in her transition to high school. "Link Crew's welcoming spirit, helpful tours and tips, and the relationships created between the mentors and their freshmen have allowed the classes of 2020 and 2021 to enjoy a smoother transition and feel more at home at San Clemente High School," Carni explained. As president, she loves being able to positively impact the lives of incoming students to make their four years at SCHS the best they can be. In addition to benefitting freshmen, Link Crew offers upperclassmen the opportunity to be leaders and role models for their peers.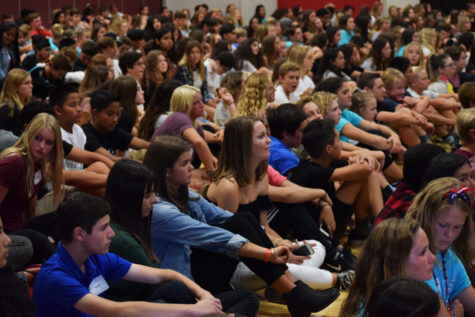 Ms. Dimperio and Mr. Dollar worked hard to establish Link Crew at San Clemente High School with the goal of "making San Clemente's campus more inclusive for everyone." On the first day of the 2016-17 school year, the first generation of Link Crew leaders showed up to school in their bright red Link Crew shirts to help freshmen on their first day. Since then, it has only continued to grow.
Ms. Dimperio recalled a conversation from 8th Grade Night that illustrated the positive effect that Link Crew has had on so many individuals. "A parent came up to me and thanked me for everything that Link Crew had done. Their daughter had been a freshman that year and had benefited so much from Link Crew that she planned on becoming a leader when she was a junior. They told me they were so excited for their son to start school and have a similar experience." If Link Crew has made a difference in even one student's life, then we've been successful. It's a powerful ripple effect that will continue to grow with time.
San Clemente High School has a place for everyone, and Link Crew has helped freshmen find their niche and learn the ins-and-outs of high school, making friends all the while. After all, freshmen are friends, not food.