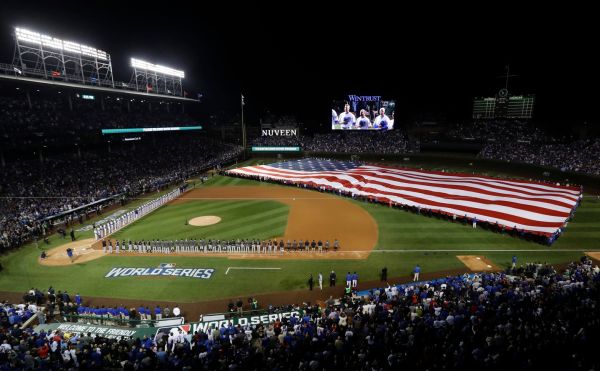 By: Sean Turcotte | Writer   &    Zac Skov | Writer
October 31, 2017
It's time for the most important set of games of the year: The World Series. The Los Angeles Dodgers, lead by rookie Cody Bellinger and veteran pitcher Clayton Kershaw  are going head to head against the Houston Astro's All Star second Baseman Jose Altuve and Justin Verlander. This series has been long anticipated over the 2017 season, with both teams having 162 regular season games and 2 tough postseason series under their belt. 
With the new rule forced upon the league before the season began, the All-Star game no longer decides who gets home field advantage for the World Series, but rather the team with the best regular season record receives the privilege. The Dodgers, with the best regular season record this season with 104 wins and 58 losses resultantly earned it. The first game took place this past Tuesday, and the Dodgers reigned victorious after another late-game home-run by Justin Turner. One more game will be played in Los Angeles before both teams must fly out to Houston for the following 3 games. If necessary, the series will return to Los Angeles for the remainder of the games until there is a definite World Series Champion.
Winning the first two games at home is the key to success for the Dodgers. After blowing through the Cubs in 5 games during the NLCS , the Dodgers look to continue their hot streak. Lifelong Dodger fan Jimmy Cusey noted in an interview, "I am so hyped to be able to see my team come this far, now all they got to do is avoid choking and we will have the series in 4 games." Jimmy plans to attend the 6th game at Dodger Stadium if the series makes it there. Him, along with millions of other Dodger fans have been waiting to see this talented lineup from Los Angeles claim a title. And by the looks of it, that might just happen.
The Houston Astros have been the underdogs most of this postseason, always battling their way to the end. What they lack for in pitching, they make up for in instinct and grit, never fearing their opponent, but striving to defeat them. After a long series with the MLB villains from New York, they have proven that they are not going to be stomped out by Los Angeles. With 101 wins and 61 losses during the regular season, the Astros dominated their division and have continued to do so into the postseason. Now, at an 0-1 deficit to start the series, they face an uphill battle. To many people, this might be bad news, but to Mason Liscio, an avid Astros fan, there seems to be no stress at all. When asked whether or not he was worried about the loss, he responded, "No, the Dodgers can take game 1 and 2, it doesn't matter, my boys in Houston will go 3-0 at home  and come back to LA for the dub."