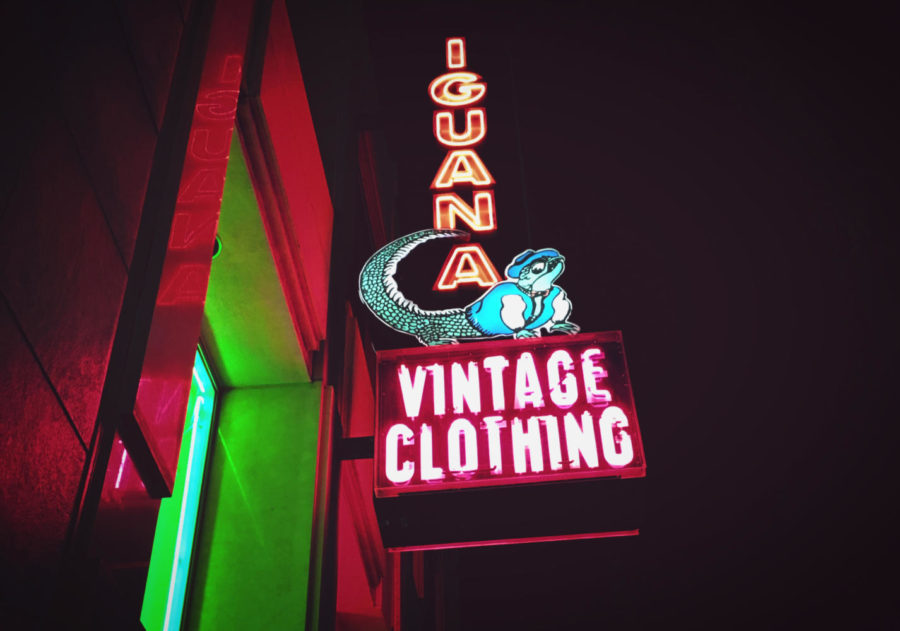 By: Morgan Creek | Opinion Editor
October 25, 2017
Some people find that thrift stores, or stores that sell previously used and/or up-cycled clothing, have everything they could possibly need. From clothing, to furniture, to books, to records, to electronics, the retro-look that thrift stores offer is adored by many. For others, the idea of wearing previously owned clothes is both unfashionable and unappealing. So why do so many people choose to shop at thrift stores?
Thrift stores can have extremely low prices, specifically at small or volunteer-based stores. Prices are usually around 1/10 of the original price, if not less. They're great for finding pieces unique to your style for just a couple dollars. But a more significant reason that applies to the public as a whole? Clothes can take a TON of water to make. Actually, make that hundreds of gallons. One plain cotton t-shirt uses 400 gallons of water just to grow the cotton needed for the shirt, and that's not including the water used for cooling machinery or transportation. A brand new pair of jeans? Those takes a whopping 1,800 gallons. That's the equivalent of 2,565 average showers. Yikes.
California is suffering its seventh year of severe drought. With the immense amount of water used in agriculture, as well as our daily lifestyle, making a change to use less water can help lower the current water shortage crisis. And buying used clothing is a quick and easy change that can have a big impact.  Choosing to buy previously owned clothes ultimately allows you to recycle that clothing. Every time you buy a used pair of jeans or a used cotton t-shirt, you're saving hundreds and possibly even thousands of gallons of water. On top of that, you're also saving hundreds of dollars in the long run. It's really a win-win.
So let's move onto the topic of thrift stores…the preconceived idea that thrift stores contain dingy, gross, unwashed clothes is mostly just that – a preconception. In the past, thrift stores may not have been the cleanest, but today, almost every Good Will you walk into will smell of clean, fresh laundry, and is both nicely organized and well-kept. While some smaller, more local thrift stores might not be as aesthetically appealing as big chain thrifts, their clothes are indeed washed before being sold (it would kind of a be safety hazard for them not to be).
A lot of people think that thrift stores have nothing that match their trendy style. While this could be the case, you might be surprised what you can find should you really dive in deep to the thrift-shopping lifestyle. Spend a halfhearted ten minutes searching, and chances are you probably won't find anything you like. There's just too much clothing at a thrift store to kind of "skim" through everything. But if you dedicate an hour or two to go through pieces rack by rack , there's a good chance you'll come up on something really cool.
However, thrifting doesn't have to be the long and miserable search through hundreds of pieces that it may seem to be. One idea is to go with friends, just as you would at a regular mall. Because thrifting can be time-consuming, it's a great activity to do while having conversation with friends. Isabel Grigg, a junior at SCHS, comments on her experiences of thrift shopping:
"Thrifting is honestly one of my favorite activities to do with friends. We go thrifting probably every other weekend. It's a great way to catch up and just chat while also finding some really cheap and cool clothing. Whether you want to go with one friend or a large group, it's a really fun thing to do. And after a few hours you're all probably hungry, so then you can just grab a bite together to eat at a place nearby. It makes for great weekend plans!"
And so comes the next question and the series that follow it- where do you even start? How do you know which stores are good and which are bad (because yes, not all thrift stores are equal)?  I've put together a list of some of my favorite thrift, vintage, and recycled-clothing stores. Organized from nearby to more distant locations, these are my top ten personal favorites. From small, donation-based thrift stores to large, chain vintage stores in LA, you're sure to have a variety of places to try thrifting out.
1. La Tienda, San Clemente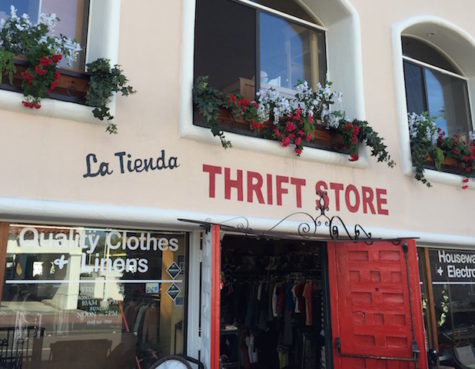 La Tienda is a super cute thrift store that is located here in San Clemente. It is constantly getting new donations and seems to always have an article of clothing I love. Adriana Rivas, a senior at SCHS, says that La Tienda is her favorite local thrift store, stating, "All of the people who work there are volunteers, whom are very nice and helpful. The prices are good, and there is new stuff every time I go there- and I go there a lot." I'll second her on that one.
2. Salvation Army, San Clemente
The Salvation Army is one of the most promising thrift stores, no matter the location. And it just so happens that we have one right here in SC! It too has a large variety of items ranging from clothing to furniture. The prices are also quite low. Be sure to go on one of the many sale days, when things are usually 50% off.
3. IHope Gift and Thrift
With a little more mature style of clothing, IHope is another local thrift shop in SC whose funds are dedicated to helping the homeless. While it isn't my preferred thrift shop for clothing, it does have a lot of unique items that are great for gifts.
4. Laura's House Resale Store, San Juan Capistrano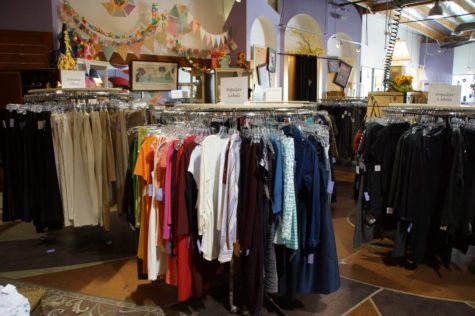 One of my personal favorites, Laura's House Resale Store is just a bit outside of San Clemente and is located in San Juan Capistrano. While it's prices are more mid-range for a thrift store, it has a large variety of colorful and interesting pieces that you may not find at other similar shops. If you're looking for a statement piece but still want to stay local, this is the place to go!
5. Good Will, Lake Forest
The Good Will in Lake Forest is HUGE for a thrift store. It is super organized and clean, and always has large shipments of clothes coming in, causing a constant rotation of new clothing. Its large variety allows there to be something for everyone- you just have to be willing to search rack by rack by rack.
6. Salvation Army, Lake Forest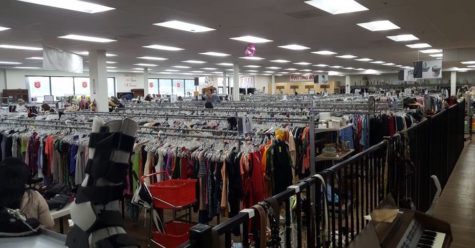 Salvation Army Lake Forest is only a few miles away from Good Will, so if you're going to one, why not go to the other! Like all Salvation Armies, there is a large range of clothing with really reasonable prices. Though it is a bit farther than the SC one, I actually visit this one more often as it larger and has more of a variety. It's really worth the drive! And remember- sale days.
7. Buffalo Exchange, Costa Mesa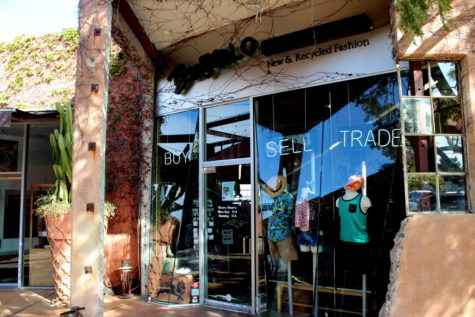 Located in an anti-mall, Buffalo Exchange is definitely one of the coolest thrift stores I've ever been to. Though their prices are more on the high end for thrift stores, they have some amazingly cool vintage pieces. From their crazy jewelry selection to their Halloween costume section, if you're looking to be iconic with your style, this is the place for you.
8. Flashbacks, Encinitas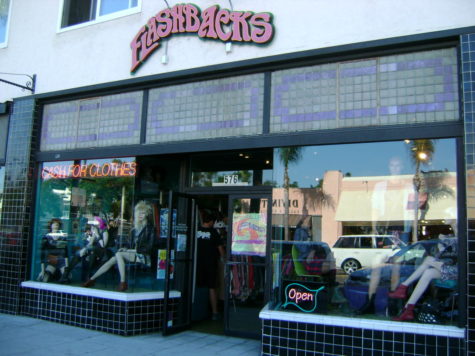 Very similar to Buffalo Exchange, Flashbacks is another super unique thrift store. They have a ton of random costume pieces and even have some colored wigs. The pricing is a little on the high end as well, but the quality of the cool pieces available are worth it. Like Buffalo Exchange, you can also sell your old clothes here and make a bit of cash while you're at it!
9. American Vintage, LA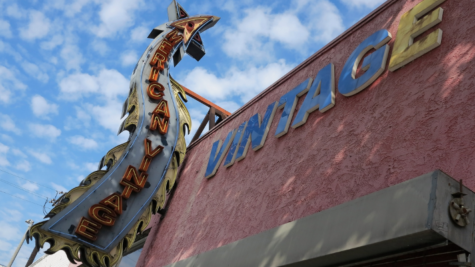 American Vintage is a chain located on Melrose Avenue in Los Angeles. Because they re-purpose some of their clothing, they offer a combination of vintage pieces like fur coats and up-cycled pieces such as painted jeans. However, American Vintage does set the bar for high prices at thrift stores. But if you're in LA, be sure to check out the various American Vintages along Melrose! We can still try on the clothes, right?
10. Iguana Vintage Clothing, LA
By far my favorite thrift store, Iguana Vintage Clothing has EVERYTHING. Seriously, it's massive. Only offering clothing and accessories, its three floors are dedicated to shoes, jewelry, clothes, clothes, and more clothes. Huge fur coat section? Yep. Huge wig section? You bet. Wedding dress section? Yup. Iguana Vintage Clothing has it all, and for pretty reasonable mid-pricing as well. It's located on Hollywood Boulevard, so if you're in Hollywood for some sightseeing, be sure to check out this incredibly cool thrift store.