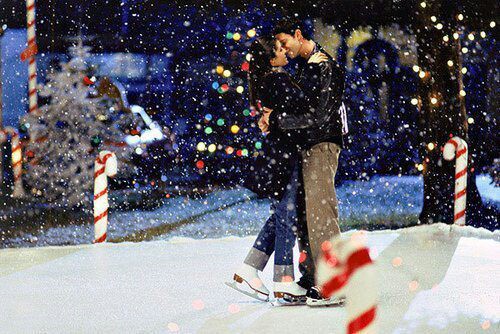 By: Sydney Burns   &   Emma Earlywine | Writers
November 29th, 2017
As December draws near, festive cheer fills the air. The clouds begin to darken and cover the once warm summer sun, bringing in chilly breezes and rosy cheeks. This season calls for warm sweaters, hot chocolate, and someone to share the holidays with. Tritons can begin to get into the holiday spirit by following our "12 Christmas Dates" guides to get the most out the holidays!
Gingerbread House
One of the most creative ways to show your holiday spirit is to make a gingerbread house with your bae. You can buy gingerbread house kits at your local supermarket, but Riley Brail, senior at San Clemente High School, would recommend the Trader Joe's gingerbread house kit. "It is so cute, organic, and it comes with icing that will hold your house up like cement!" While you use teamwork to allow your gingerbread house to come to life, you and your significant other can bond over hot cocoa and your craftsman skills.
Ice-skating
The Aliso Viejo Ice Palace is only minutes away and it is the perfect activity to get any couple ready for the holidays. With the slice of the blade and the frosty air, you are sure to feel the Christmas spirit. At Aliso Viejo Ice Palace, they have a variety of "free skate" times to choose from that provide pop music and good times. On usual free skate days, rental skates and admission cost around $20. There are weekly free skates on Saturdays and Sundays from 12:30 pm to 3:00 pm. Hot chocolate and snacks are served at the snack bar, so you can take a much needed break from the cold with a warm drink and comfy chairs.
Tree Hunting
Located just a minute drive away from campus, there is a Christmas Tree sale in the parking lot at Lowe's off of Pico. You can shop around and enjoy the sweet smell of pine while you select a lucky tree to decorate at home! To accentuate this adorable date, you can make ornaments with pictures and string to place on your tree.  Adding glitter never hurts!
Balboa Houses
During the holiday season, the residents of Balboa Island decorate their homes elaborately in order to try and win awards given by the "Christmas Light Committee." Almost all of the homes light up their yards and roofs with twinkly lights and creative themes. Walking around the island on the boardwalk makes for a date that will leave you singing carols.
Binge watch Christmas movies
If you are more of the type that likes to chill at home, binge watching holiday movies may be your cup of cocoa. Because the holiday season is nearing, moving streaming applications like Netflix, Hulu, and Apple Movies are beginning to fill the movie selections with holiday movies. Currently, Netflix has "Santa Clause," with Tim Allen, the classic "The Grinch," with Jim Carrey, and Tim Burton's "The Night Before Christmas." With these selections and more to rent on Apple Movies, you will be sure to have a snuggly holiday!
Go see "A Christmas Carol" at South Coast Repertory
A classic story written by Charles Dickens, is showing at South Coast Repertory starring Hal Landon Jr., the man that has played the part of Ebenezer Scrooge since the beginning of the play 37 years ago. Dress up in cute outfits and head on down to the SCR to see a classic musical and get into the holiday fun.
Christmas Cookie Cut Out Making and Decorating
A sweet way to spend your holiday is to make homemade sugar cookies! Using a holiday cookie cut out and festive frosting is the perfect way to decorate your cookies like your favorite holiday character! Sierra Moore, a senior at SCHS recommends, "using a snowman or a Christmas tree comes out better than a complicated cut out like a reindeer." By following Sierra's tips, your cookies will turn out perfect.
Dana Point Harbor Lights
The harbor's annual light show is one everyone can enjoy, whether it's a date or a dozen of your closest friends. The candy-cane striped pillars along with the hanging snowflakes make a perfect backdrop for an Instagram worthy photo-shoot. Get some yummy hot chocolate and snuggle up in a warm sweater and head down there with your significant other.
Harbor Boat Parade
The Harbor is pretty festive this time of the year. Not only is the harbor decorated in lights, but Dana Point also puts on the Boat Parade. The 43rd annual parade is approaching this Decemeber 9th, from 4:30 to 9:00. Witness the hilarious decorations and beautiful boats as you cuddle with your babe on the grass.
Go to putting on the Glitz on Del Mar
The Annual Putting on the Glitz Fest is this Saturday, December 2, from 5-10 pm. Del Mar street has been decorated with Christmas lights accompanied by holiday cheer. Head down to Putting on the Glitz this Saturday for a festive time with your significant other!
Go Christmas shopping together
As Christmas nears,  getting your Christmas shopping done with your significant other is a chore made fun! Enjoy the Christmas carols and holiday decorations throughout the mall while you check off your lists hand and hand with bae.
Nellie Gail Christmas Light House
Most neighborhoods have beautiful icicles and bright red bulbs hanging from each roof, but rarely you see a house covered from the chimney to the street in tiny lights being set up in August. Inside Nellie Gail neighborhood, a house stands out above the rest. Go with your bae, park outside the house, then set your radio to the station listed outside. The light show corresponds with the Christmas cheer. Walk around inside to witness the dozens of beautiful tiny villages scattered around.
No matter your tastes, San Clemente and Dana Point offer a host of festivities for you and your significant other this holiday season!