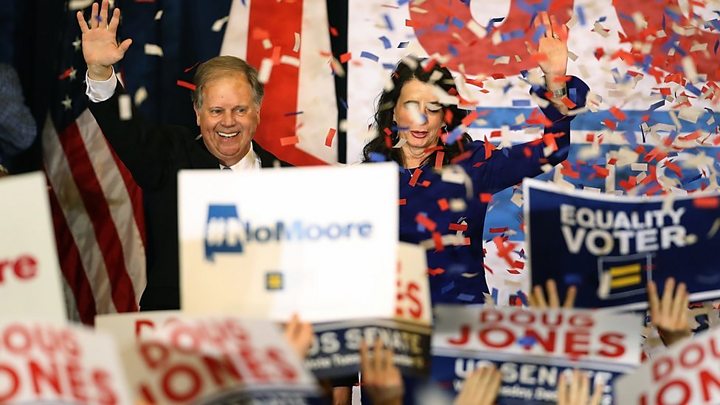 By: Josh Greene | Media Editor
December 13, 2017
In a stunning outcome, Democratic candidate Doug Jones has defeated Republican hopeful Roy Moore.
While Jones' victory narrows the Republican majority in the senate, it also serves as a triumphant accomplishment for human decency and common sense after the recent sexual allegations pressed against Moore. What would have been a blowout victory for the Republican candidate quickly became a close contest when the public discovered his history of sexual abuse and harassment with minors.
Alabama, one of the nations poorest states, has a desperate need for wage improvements, health care, and education reform, issues that Moore almost entirely disregarded when surrounded by his sexual allegation scandal. Rather than abandoning the race in the midst of these allegations, Moore turned to political nihilist Steve Bannon for help, soon labeling his sexual accusers as liars, plotting for his defeat by promoting the "establishment" and "fake news." 
Although a long way from Alabama, San Clemente students have strong opinions on the national issue. Junior Nate Bunce argues, "Moore's loss is a victory for America's sanity."
Moore, who was twice removed from Alabama's Supreme Court, has a history of political embarrassments, repulsing many Alabamians. Yet, no other Republican candidate stepped up, and so many Republicans had to support Moore rather than the opposing party, even despite his ugly past. In the deeply conservative state of Alabama, nobody thought Moore would lose.
"Not only is today a good day to be an American, but its a good day to be an American," senior Connor Mateer claimed.
Republicans still hold the majority in the Senate, but Jones' victory marks the beginning of a long road for the Democrats in their effort to reclaim seats. On the surface, Jones defeating Moore seems like one seat overturned; beyond that, the defeat serves as a wake up call for political corruption around the nation.