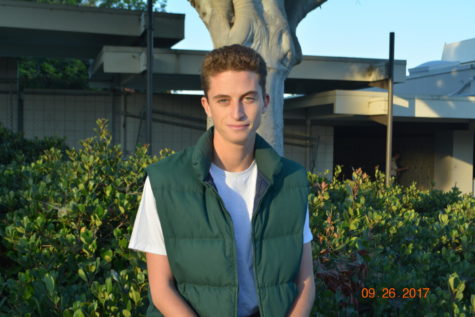 Hey, my name is Josh Greene, and I've revolved around the solar sun almost 18 times, so I am technically 17 years old.
Life has changed since my first year in Newspaper. In those days, I was this skinny kid who liked to surf and watch movies, now I'm this skinny kid (but not as skinny) who likes to make movies.
This is my second year in Newspaper, and I'm more than excited to be back. With this 2nd year, my senior year, I hope to offer great contributions to this class. As an aspiring screenwriter and director, I'm also in Video Production and the technology commissioner in ASB to make more films, so adding Newspaper is the ultimate trifecta of creativity.
I've been writing my entire life, so the school newspaper serves as a perfect outlet for me to express my opinions and preserve the memories of our school and community.
Throughout the class, I hope to learn skills that improve both my writing and journalism, as well as help improve the school paper itself. After high school, I hope to attend a university in which I can continue to challenge myself to have an influential life and career, and eventually become a citizen of the world and our universe. I hope to have a positive impact on our world through means of film, writing, or journalism. Aside from journalism, I'm an avid surfer and all-around water-man. I'm a team ambassador of Exile Skimboards, a sport that involves surfing shore-break on a fin-less board. Lastly, I'm a proud advocate of Korean BBQ.
To read more articles written by me, please click the links below!
San Clemente Gentlemen's Basketball League – A United Junior Class at SCHS
https://tritontimes.com/11331/student-life/san-clemente-gentlemens-basketball-league-a-united-junior-class-at-schs/
Tensions Arise Again Between Toll Road and Trestles
https://tritontimes.com/10021/news/tensions-arise-again-between-toll-road-and-trestles/
Iceland Scholar Trip – A Cosmic Perspective
https://tritontimes.com/9220/student-life/iceland-scholar-trip-a-cosmic-perspective/
Videos: 
Mni Wiconi [Water is Life] – OC March for Standing Rock
https://tritontimes.com/11792/news/anti-dapl-protest/
European Expedition
https://tritontimes.com/10876/multimedia/video/european-expedition/
CIF Football Hype 
https://tritontimes.com/10542/multimedia/video/cif-football-hype/