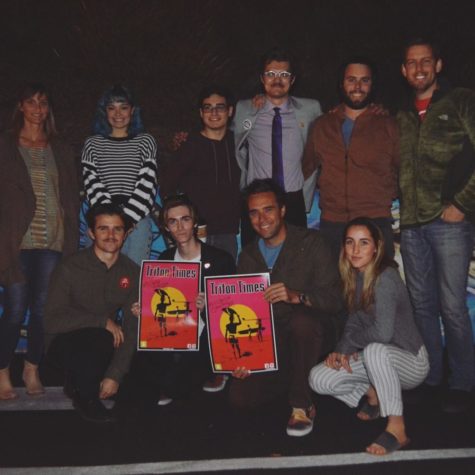 By: Gavin Kelleher-Marciello | Student Life Editor
December 13, 2017
On December 11th, 2017, Triton Times hosted their first official event. In partnership with San Clemente's favorite local coffee shop, Zebra House, the newspaper showed a documentary called Killswitch. Students, parents, teachers, and community members gathered to learn more about the implications of the congressional decision on net neutrality that will be voted for on December 14th. Killswitch delves into "the internet's complicated relationship with censorship, free speech, and innovation." The film was first shown at the Woodstock Film Festival in 2014, where it was given the James K. Lyons Award for Best Editing of a feature documentary. Although Killswitch was released four years ago, the subject matter remains timely and increasingly important.
Triton Times took this opportunity to engage with our community and inform the upcoming generation of voters on how they can educate themselves and get involved in their democracy. Senior Camryn Ostrander attended the screening and was able to chat with Triton Times about the significance of the event.
What was your extent of understanding on Net Neutrality?
Previous to this movie I had no idea what net neutrality was, I had only heard about it in my government class a couple times. I was also unaware of the current bill that is being presented on the 14th. Originally, I went to the Killswitch viewing for extra credit in my government class, thinking it was going to be really boring, but after watching it, I realized that this movie is extremely beneficial for young generations because there is a lot that this current net neutrality bill is capable of changing.
What is your personal stance on this topic?
I think we should protect net neutrality. We were given freedom of press and speech for a reason and if this bill passes, the government is going to restrain these freedoms. It's unconstitutional.
What do you think about teens getting involved with politics?
I think it's great to get kids politically involved, it helps show us that we have a voice too. Growing up, people are always telling us "Go tell your parents to vote for this bill" or "your parents voted for this president." At this age, we are all preparing to leave and enter the "real world." Politics, taxes, and regulations are now things we have to be aware of, and it is extremely important. One of the reasons I took AP gov was that I wanted to know who and what is representing my country."
What was your favorite part of the Killswitch showing?
The Q&A with former San Clemente alumni and screenwriter Chris Dollar was really cool! Watching this movie and participating in the discussion after was super interesting. It was cool to hear students engage in such a prominent issue.
In the midst of a bustling, competitive, and confusing political climate, San Clemente seniors, along with their fellow high schoolers, are getting ready to enter the real world of taxes, bills, voting, and political awareness. These things become increasingly more important to stay informed about; we are the generation that will be most affected by the political decisions that are being made here and now. This is our fight too.