October 23, 2014
Alison Shea | Writer
It's that time of year again! The holidays are coming, the leaves are falling, and your TV is calling! There are so many great shows to get hooked on this season but American Horror Story: Freak Show tops the charts, and rightfully so.
Season four will give you chills and have you sleeping with the lights on. Set in 1952, American Horror Story: Freak Show takes you back in time when freaks were their freakiest and disturbing was more than just an adjective, it was a reality.
The first two episodes focus primarily on conjoined twins, murderous clowns, a strong man played by Michael Chiklis, and of course the ring leader Elsa Mars played by Jessica Lange. If you've watched the show before you already know that it is Emmy-worthy thanks to its all-star cast's note-worthy prowess of acting. Returning cast members include Kathy Bates, Angela Bassett, Evan Peters and Emma Roberts. Not only are the characters exceptional, the plot's twists and turns will pin you to the edge of your seat (or couch for that matter.)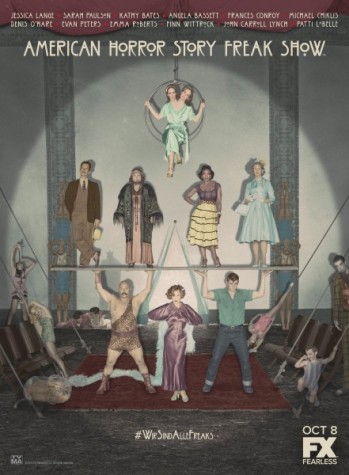 It takes place in Jupiter, Florida where one of the last remaining freak shows desperately seeks recruits and an audience that will keep their business alive. You'll have to watch and see for yourself what happens when conflict arises between the freaks and the "evil forces" who do not understand them. This is the most addicting and engrossing anthology television series out there and trust me, you don't want to miss out!
Critics are raving that this could be the best season yet and that even if you're not a fan of gore, this shows appeals to all audiences due to its spectacular makeup and costume design and its riveting story line.
If you do get scared easily I would suggest watching this show during the daytime or early evening which I unfortunately made the poor decision in not doing. But hey, it was worth it because I can now say that I have watched, and survived, the first two episodes of season four of American Horror Story: Freak Show! Even though it had me sleeping with the lights on (it was only for one night, don't judge,) I kept reminding myself that this is what the Halloween spirit is all about! So buck up, give this critically acclaimed work of art a whirl and make this Halloween the spookiest one yet!