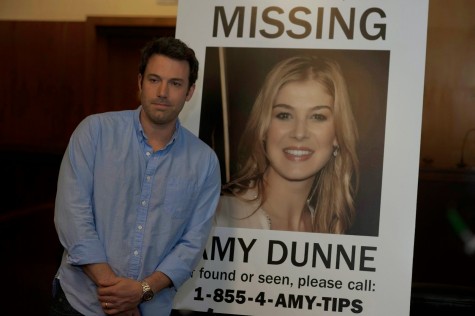 By Hannah Lickley
October 28, 2014
"Gone Girl" directed by David Fincher is rated R. The movie is rated R for the bloody violence's, strong sexual content, and language. Lasting 2 hours and 25 minutes the movie keeps you in suspense and curious the whole way through. Rosamund Pike (Amy Dunne) and Ben Affleck (Nick Dunne) do an amazing job playing the main characters of the film.
Ben Affleck plays a man that feels he has a certain obligation to prove to everyone that he is a 'decent guy.'
This movie is what breaks Affleck out of his slump. Because of many box office disasters he needed a film that showed everyone he is still on the maps, he made a perfect choice.
Rosamund Pike has been in many films, such as "Bond Girl" and "Die Another Day" but has never been a well known actress. After this movie she will now be recognized all around and is nominated for a well deserved Oscar.
*SPOILERS*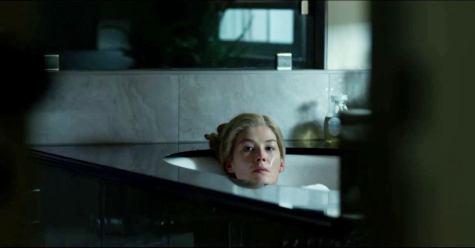 Growing up as an only child was particularly tough for Amy Dunne. Competing with "Amazing Amy" made her have a need for people to make her feel special and desired. Throughout the movie you notice the way Amy's childhood has affected her mentally and the actions she takes.
In the beginning you notice the normal, tough, marriage Amy and Ben have with each other but as you continue to watch you notice how the hatred they have for one another is much stronger then they were both leading on. With many twist and turns throughout, Fincher does an excellent job portraying both sides of the story.
Jeff Cronenweth was the film's amazing cinematographer. To shoot the movie he used the Epic Dragon, which is an updated version of the digital Red camera he used in the movie "The Girl with the Dragon Tattoo." Cronenweth knew just exactly what angles to shoot and the movie turned out perfectly.
I strongly recommend this movie when you feel you are old enough to handle the bloody scenes and the sexual content with in it. The movie is very well done and will keep you talking about it for days after. The dark view it has is different than what I have seen before and although it doesn't end as a "happily ever after" the movie wraps up nicely with all of your questions answered.