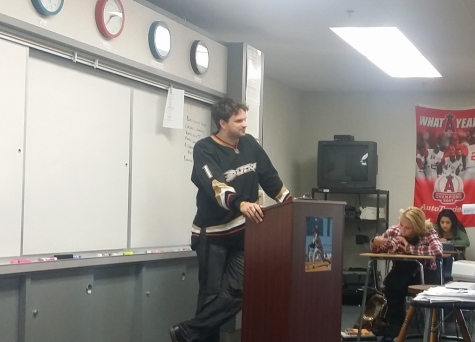 Rhiana Neidermayer | Writer
November 4, 2014
A man of many different faces, Mr. Bisch is a world traveler, devoted philanthropist, dynamic musician, volleyball coach, newly-married man, and oh yeah, a first-year English teacher here at San Clemente High School.
Starting out as a student teacher, then moving up to a permanent sub, he finally got his own classroom this year. "This is the best job I've ever had," Mr. Bisch said. "I love that every day at work is something new!"
Born in Bellview, Washington, one of his first jobs was playing and writing music.  A base player originally, Mr. Bisch began writing music on the side. That is when he realized how much he loved writing and what he could do with just some words on a piece of paper.
Throughout his time in school, Mr. Bisch was always creatively writing and exploring his literary talents. He did not always know he wanted to become an English teacher and had hoped to major in Psychology. Eventually, Mr. Bisch realized he enjoyed helping students explore their creative minds and bring it out on paper.
He enjoys the independence that English can offer students, stating "There's so much personality in English, not to mention you can write about absolutely anything."
Mr. Bisch is very active and participates in many activities when he is not at his teaching day job. Outside of school, he enjoys going to see the Los Angeles Angels of Anaheim baseball games as well as Anaheim Ducks hockey games. Each year, Mr. Bisch and his younger brother take part in a fundraiser for Multiple Sclerosis. They, along with many others, ride bikes from Irvine all the way to Seaworld to help raise money for the admirable cause!
He is also an active traveler and despite his young age, Mr. Bisch has been all the over; he has visited Germany, Austria, Italy, Hawaii, and Jamaica! Which out of all those amazing countries was his favorite? He replied Jamaica, the country he traveled to when he was just 18 years old and stayed for a total of 10 days. " I loved walking around barefoot everywhere and having dance offs. I didn't ever want to leave," said Mr. Bisch.
It is interesting to know that even people who seem to have done so much in their young lives, and have traveled far and wide, can come to San Clemente High School to share their knowledge with the younger generations.