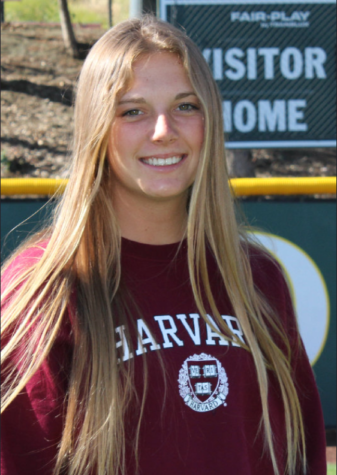 By: Claire Vlasic | Writer
January 17, 2018
During second semester, seniors have loads of pressure as they eagerly await to hear back from the colleges, in and out of state. Luckily, some students have already been accepted and have committed to school early in the year, whether it be for academics or sports, and have had that pressure of getting in somewhere taken off of their shoulders. It is important to many students that they get into a college they love, so it is very exciting to hear from people who have already committed and see how excited they are to start this new journey.
Grace Krantz, a senior at San Clemente High School, was awarded the opportunity to commit to Harvard her junior year, not only for her outstanding academics but also her talent at softball.
After looking at several colleges and scouting them out, Krantz decided that she wanted to go to Harvard for the next four years, she liked the campus and the environment. Krantz explains that she knew Harvard was the school for her during her softball recruits as she, "called the Harvard coaches like [she] did for every other school and when they asked [her] to commit, [she] had been praying about it and knew that was where God had been leading [her] all this time." Krantz is excited to start her new adventure and meet new people, she also can't wait to further play "the sport I have grown up with" for the next four years of her college life.
Hard work and commitment truly does pay off in the end for all of the lower classmen who still have a few years of high school left; this is evidenced by Krantz's achievements. It is often hard to stay on a scholastic or athletic pathway all four years of high school, but it is important to look ahead at some of the bigger things in the future. Grace Krantz is just one of the many students at SCHS who has showed outstanding success throughout her high school career, and many more individuals are capable of earning the success she has earned so clearly.