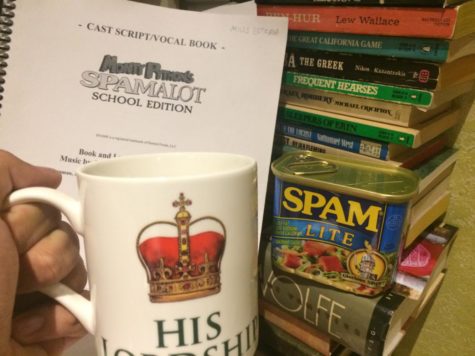 By: Miles Estrada | Writer (Fiction)
January 19, 2018
It seems that in recent years, the San Clemente High School Drama Department has gotten more ambitious in terms of their productions. In the past, one might expect them to turn out a run-of-the-mill sort of show customary for schools at some point or other (say, for example, The Pirates of Penzance, Grease, Our Town, etc.) But now, director Laurie Mason has gained antecedent to tackle some of Broadway's most renowned productions and adapt them for the humble environment of the school setting, with April of 2017's Mary Poppins, September of 2017's Little Shop of Horrors,  and now soon to be April of 2018's Monty Python's Spamalot all under her belt.
The focus here will be Spamalot, the upcoming spring musical, and it is from this production in progress that there will be derived an inside look of the conditions of the rehearsal habitations, and the state of affairs of the actors.
Monty Python, a British comedy group from the early 1970s, had put together numerous television programs and films that proudly displayed their innovative surrealist humor. Among these was the film Holy Grail, released in 1975, which comically retold the tale of King Arthur's sacred quest for the Holy Grail in mediaeval England. Nearly thirty years later, in 2004, it was adapted for the stage by Eric Idle, one of the original Pythons, and thus Spamalot was conceived.
Auditions were held in December of 2017, for which fifty solicitous students had tried out. Now, with at least half of those callow students grouped together with a good number of privy experienced drama students, rehearsal is well on its way. The first day of rehearsal was Monday, the 8th of January, and the main object of that day was the table read. It had taken place in the auditorium, with the fifty students all huddled together in an expansive circle, Laurie standing off to the side, making sure the amplifier that dispensed the chords of the many songs was in working order. That evening, the entire show was both read and sang by the students in about an hour and a half, and they all thought this very facetious indeed whenever they chanced to muck up. Laurie herself insisted that "our goal is not to be bad", in anticipation for a more serious performance. But, given her importunate nature, she most certainly will get it.
The second day of rehearsal was Tuesday, the 9th of January, and that evening the actors would have to test out their singing voices in the choir room. Surveyed by the charismatic voice coach David Anthony, they went through various procedures to ready themselves for the task of reciting the show's many songs. Such techniques for vocal preparation include the use of a capella (everyone was filmed by David so that he had all their voices on record), breathing, finding the proper placement, or the imaginary focal point of sound, and so on. Most students had singing parts, but there were a few who strictly acted. Either way all had to stay behind an excruciating four hours, from 3.30 to 7.30, in the choir room stripping their throats raw and rendering them much fatigued by the end of it. For those who felt dubious as to their presence there, as they did not have any singing parts, David had this to say about the myriad techniques:
"It'll make you a better person. And it's real important in scenarios like public speaking."
The third and fourth days were Wednesday, the 10th, and Thursday, the 11th, and both consisted entirely of stage blocking. Nearly all the cast had prepared themselves for whatever walking, acting, or dancing that had to be done on stage; some even went so far as to undergo a physical transformation of character. One such actress, who played the lead Knight who said Ni, donned stilts for the occasion, strutting about the auditorium with a gate similar to that to Polythemus or a drunken ostrich; someone even remarked that she had "nice legs" when she chanced to trot on by. From  that display alone, this show proved not only to be the most complex that SCHS has put together, but it was also, as lead makeup artist and accredited Australian Sophia mains put it, "the longest show we've done yet." For actors, blocking was such a success that they finished an hour early at 6.30 on Wednesday and at 5.30 on Thursday, when they were set to see completion by 7.30 and 6.30 on the corresponding days – Laurie certainly was impressed by this. Dancers, however, were not so lucky, and were forced to stay with the choreographer the whole time allotted.
Over the whole of the production, there pervades a sense of unwavering enthusiasm. This was expressed not only by the crew, who often stayed well into the night in preparation, but by the cast as well; William brown, who plays the starring role of King Arthur especially. When asked how he felt about taking on such a big role, he had this to say:
"I feel pretty excited. I realize it will take a lot of preparation, a lot of memorizing, and dedication – but that's to be expected. I think this is my first ever real funny role, so I got to really step up to the plate on this one, and be able not only to work well with a lot of other characters, but to communicate too."
He had this to add on when questioned if he thought that the end product would be propitious:
"Most definitely. I think that in the end we're going to make something to be proud of and that's worth a lot of time and effort."
A lot of time and a lot of effort, that is what is to be expected for these students to exert over the next four months of rehearsal. Spamalot is set to premiere the 12th of April; but until then, the Drama Department will be hard at work for the long haul that is to await them in the end.