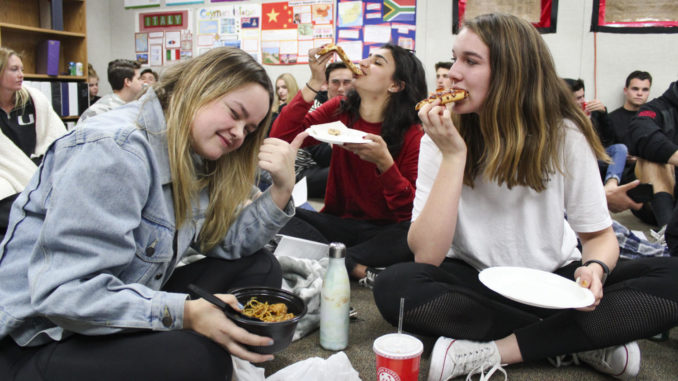 By: Meghan Byrne | Writer
February 2, 2018
Tuesday night, dozens of San Clemente seniors gathered with their friends for a party. Like they would at any other party, these seniors ate pizza and shared jokes, but two things made this event different from the average party: it took place in Ms. Shick's classroom, and the cause for celebration was the annual State of the Union Address.
In classroom P2, AP Government students from both Ms. Shick and Mr. Dollar's classes participated in the "State of the Union party," an annual tradition that brings an element of fun to the class's assigned viewing of the speech. The seniors marked squares on their "State of the Union BINGO" sheets according to topics and phrases the president incorporated in his account of the first year of his term, ranging from "the stock market" to "my fellow Americans."
But along with the fun and games, many of these students witnessed the State of the Union address for the first time in their lives. Several shared that the experience influenced them to start thinking about the importance of being informed, involved citizens and what areas of policy matter to them as they approach voting age.
"While watching the State of the Union, I feel that Trump gave us insight on his plans for the upcoming years, but I wish that he would have touched on other topics, like health care," shares senior Felicia Petrocelli, a student from Ms. Shick's third period class.
For some skeptics of the outspoken President, the speech offered insight, but no assurance about the immediate future under the Trump administration. "I thought that it was good that [Trump] was attempting to create compromise, but the fact that his speech was very general was worrying," comments senior Grace White.
All in all, the reactions of SCHS seniors to this unique experience of witnessing the State of the Union as delivered by such a unique president are something to behold. The feelings expressed by these AP Government students reflect the impact of this speech on the next generation of voters and give teachers like Mr. Dollar and Ms. Shick a glimpse of how their students will carry what they learn in their classes for the rest of their lives.