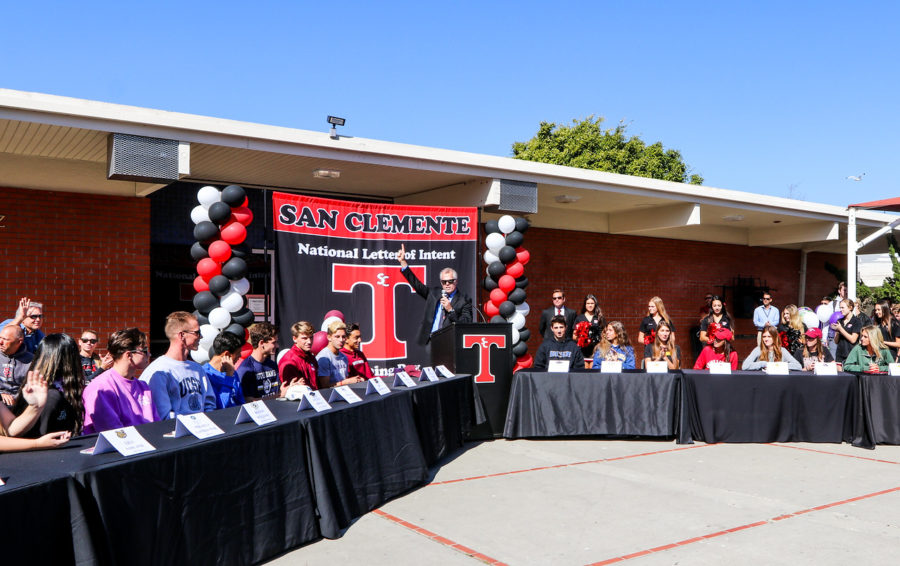 By: Makena Spencer | Writer
February 12, 2018
After years of hard work, the blood, sweat, and tears has finally payed off. On February 7th, San Clemente High School featured about 20 talented athletes that signed to various colleges across the country.
Our football team this year signed four of their previous league champs' winning athletes. Chris Kane is attending Air Force, Austin Whitsett signed to Brown University, Jack Shippy committed to UC Davis, and Thomas Wade will be going to the University of Hawai'i. After four years of being on the same football team together, Whitsett admits that he will "miss being on the Triton field with his boys."
Signing for girls soccer were London Irwin and Natalie Crapo. They will both be attending Point Loma University in San Diego. "It's not everyday that you and your best friend can both be signed to the same college for the same sport you both love, so I am excited for these next four years with Natalie," London explains. Fellow soccer standouts Kelsey Bland was signed to Chapman University and Shay Waters will be attending the College of Idaho.
Winning league this season, our boy's soccer team had five young men sign as well. Tristan Weber is attending Portland State, Tristan Traeger signed to the Air Force, Ben Giacabello committed to Notre Dame, Samuel Tuscano and KC Smith will be going to Westmont.
These athletes may not be ending up in the same place, but they all started from the same place: San Clemente. They have all made our town very proud by doing what they love and have left a huge mark on our community.
San Clemente wishes you all good luck on your next chapter of life!