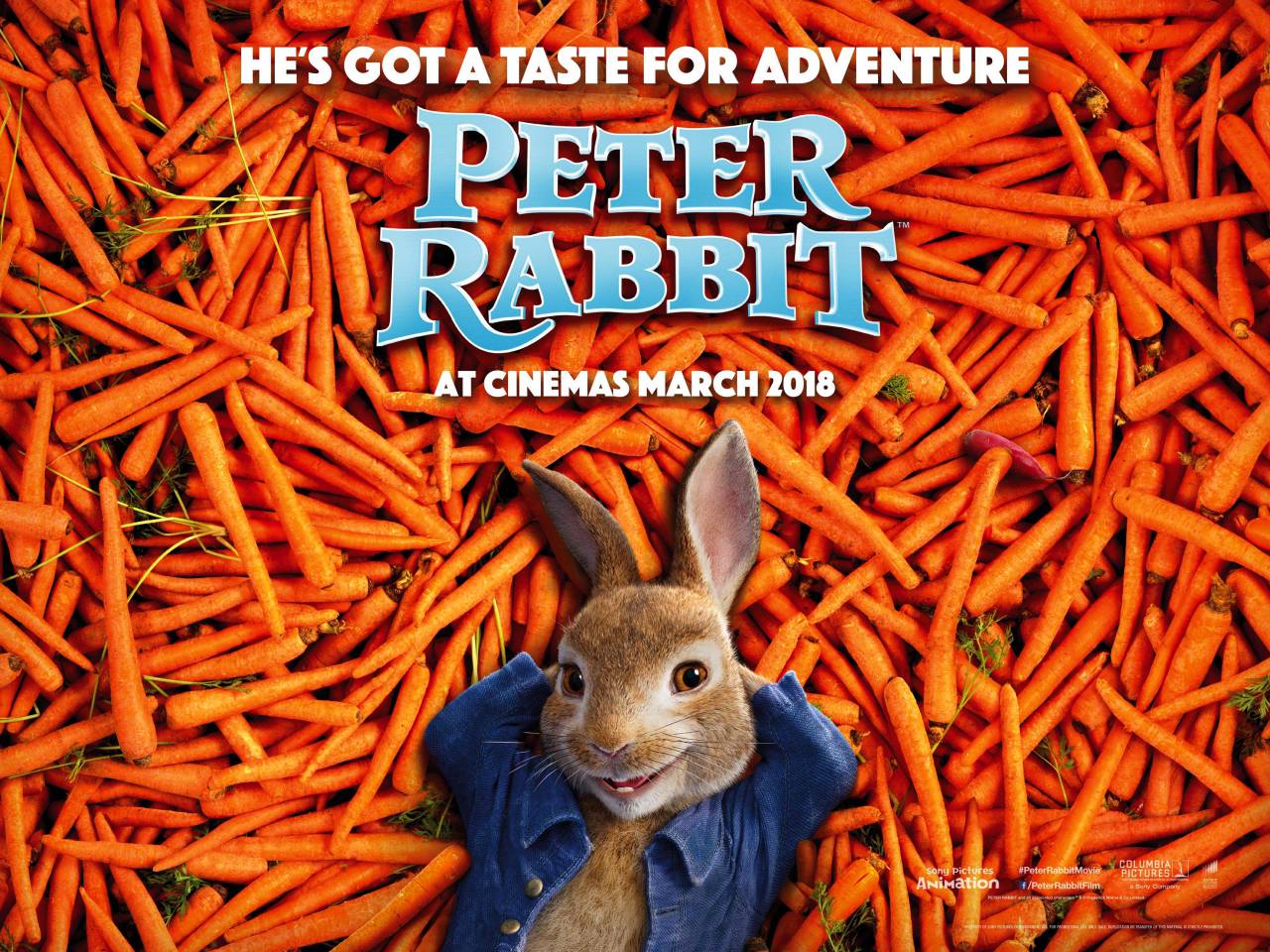 By: Danny Olivares | Arts & Entertainment Editor
February 14, 2018
Based on the beloved British poem written by Beatrix Potter, Peter Rabbit gets a reimagined, modern twist on the big screen. With movies such as Zootopia and Sing breaking the box office, it seems as if movies about talking animals has made a comeback with children. Perhaps screenwriters are trying to come up with new material and classic children's stories are up for grabs.
Without spoiling too much of the plot, Peter Rabbit, his three sisters, and cousin all live underground in a lavish garden next to the English cottage of the grouchy and old Mr. McGregor. The rabbits and McGregor are constantly at war; whoever's victorious in the end wins ownership of the garden. While attempting to capture Peter Rabbit, Mr. McGregor suddenly dies of a heart attack and the rabbits take over the property. When McGregor's nephew, Thomas McGregor, receives the news of his uncle's passing, he decides to take over the land, renovate it, and sell it in order to make some quick cash. Unfortunately for Thomas, aside from the restoration of the old and crumbly house, he now has a new problem: winning back the land – more importantly, the garden – from the rabbits. In addition, Peter now has to face a newer, faster, and stronger McGregor.
This movie isn't anything groundbreaking or new, but its still quite a cute and silly film to watch for the purpose of entertainment. The movie is about talking rabbits with British accents – what's not to like? The comedy is executed well and does not disappoint.
Aside from the praise, there is one controversial scene that is leaves a dirty mark on the film. While finding a way to defeat Thomas McGregor, Peter discovers that Thomas is dangerously allergic to blackberries. As a result, the rabbits slingshot blackberries into Thomas's mouth where his allergies begin to react quite violently to the point that he has to inject himself with an epipen. I can see why this would leave a bad taste in the audience's mouth and those with food allergies are going to extent of trying to make #boycottpeterrabbit an actual thing on social media. Personally, I think these people are overreacting. If they think this scene would be a bad influence to their children, they shouldn't have taken them to watch this movie in the first place. I'm assuming that they forgot that the main plot of the movie is a rabbit and a man trying to maul each other with traps, explosives, and even electrocution. San Clemente High School freshman, Noah Pattin expressed how "I find it silly how badly some of these people are reacting. They're letting one small scene ruin the whole film for them. Instead of trying to get an innocent kids movie removed, they should just spread awareness in a less naggy way."
Apart from that fiasco, the movie has a star studded cast of Hollywood's upcoming celebrities and veterans. It's quite funny when you realize that two main actors from the new Star Wars trilogy, a famous singer, a popular talk show host, and the woman who played Harley Quinn are all playing some of these characters: Daisey Ridley as Cotton-Tail, Domhnall Gleeson as Thomas McGregor, Sia as Mrs.Tiggy-winkle, James Corden as Peter Rabbit, and Margot Robbie as Flopsy.  When asked about the casting choice, SCHS senior Citlali Perez shared that "At first, I thought the cast was too full of popular celebrities and would end up being an overrated piece of work. However, after watching it, I thought that the celebs had a good chemistry."
In conclusion, Peter Rabbit isn't a cinematic masterpiece and has struck up some controversy, but don't let that stop you from watching the movie. After all, it's intended for a much younger audience. This movie is fun to watch and a perfect way to start off the upcoming Spring season. So hop on over to the theaters and watch this movie for yourself.