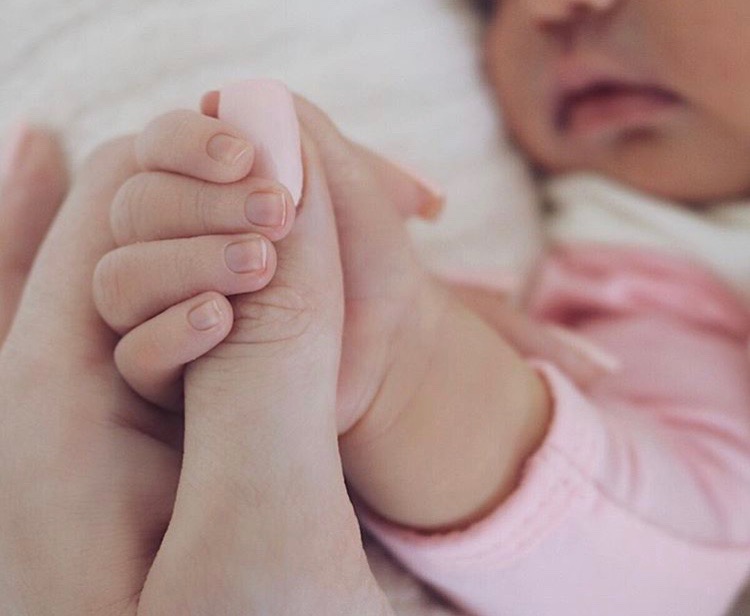 By: Sydney Burns | Writer
February 14, 2018
After many months of the growing rumors of pregnant Kylie Jenner, the youngest sister of the Kardashian/Jenner clan, Kylie announced the birth of her healthy baby girl, Stormi Webster, on February 1, 2018.
Kylie's pregnancy was kept under the radar for nine months, keeping the public guessing about Kylie's sudden absence in Keeping Up with the Kardashians and many other events, such as an award on her makeup production, that best friend, Jordan Woods, accepted on behalf of Kylie.  Kylie continuously teased the public and led on pregnancy rumors with her stylish oversized clothing and color selections. "Kylie is never snapchatting anymore but when she does she puts a picture of something pink," Carly Fotch, senior at San Clemente High School, predicted before her confirmation of the baby's gender.
Before the rumors of 20-year-old Kylie arose, she habitually interacted with fans via social media. She especially enjoyed updating fans on her Snapchat, keeping them up with her daily life. Rumors swarmed when the Snapchats and Instagram posts came to a halt, turning heads.
The Kardashian/Jenner family are not known for keeping secrets, which is easy to recognize when watching their reality TV show, Keeping Up with the Kardashians. The clan continuously shares private information on the show, making their fans feel like they are a part of the action. This openbook mentality is what sparked the public's interest in a show like KUWTK, because they are very open about their personal lives and family matters, which makes the family feel so real to viewers. "I love watching the Kardashian's because they keep us up with their lives in every way they can. It feels like they care so much about their fans and it makes me enjoy watching them even more," Riley Brail, senior at SCHS, exclaimed.
Kylie's own reality show, Life of Kylie, gave an inside look to Kylie's feelings regarding fame. She stated that, "once she has kids she will be done with social media." Shortly after saying this, she began to show signs of decreasing activity on social media, which fans interpreted as her being pregnant.
With Kylie MIA, the sisters were being constantly badgered with questions from the press about the sudden disappearance of Kylie. Talk shows like Ellen, attempted to persuade Kim Kardashian to spill information regarding her sister, but ultimately failed.
With all of the attempts by the press to expel the issue with Kylie, she was the one to reveal her secret via Instagram, when she was ready with a photo of her daughter, captioned with the name, Stormi Webster. Later Kylie tweeted, "I'm sorry for keeping you in the dark through all the assumptions. I understand you're used to me bringing you along on all my journeys. My pregnancy was one I chose not to do in front of the world. I knew for myself I needed to prepare for this role of a lifetime in the most positive, stress free, and healthy way I knew how."