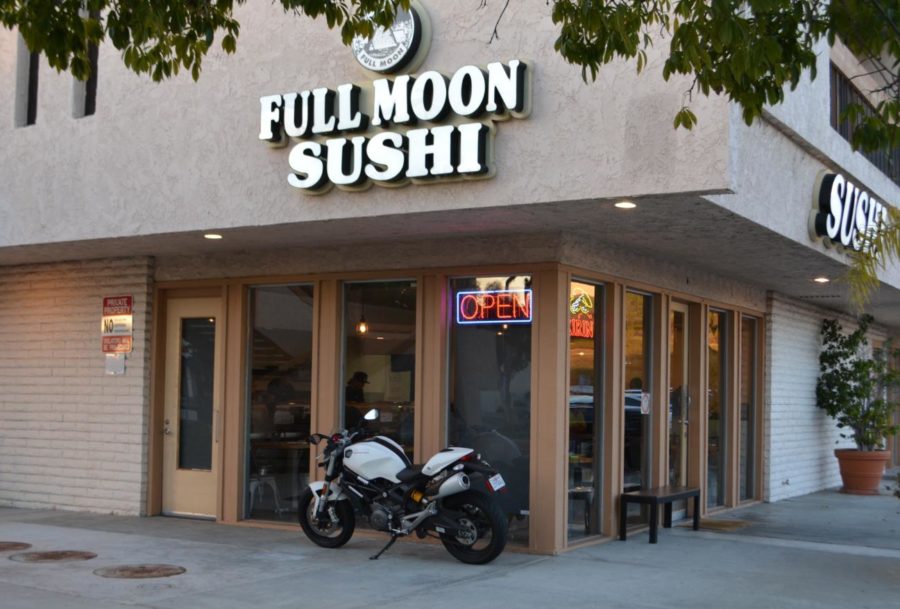 By: Lauren Stewart | Photographer
March 7, 2018
Living in San Clemente calls for days spent at the beach, picnics during the sunset, and great food for any occasion. Whether going out to eat with family or having a date night with a significant other, sushi is a popular food among locals. While excellent sushi is easily found anywhere from Calafia to North Beach, Full Moon Sushi won the vote for best sushi this year.
The well-known restaurant is medium-sized with only indoor seating and typically has no wait, unless you're going for dinner on a weekend. Sunday through Monday, Full Moon serves food from 11:30 AM to 9:00 PM, providing different menus for lunch versus dinner.
Offering a wide variety of items from udon, to teriyaki bowls, to sushi, Full Moon (how locals address it) is a family-friendly restaurant that is extremely affordable. Rolls range anywhere from six dollars to twelve dollars, their selection including the familiar California roll to their house special "full moon" roll. For those who are not as much of a fan of sushi, Full Moon has delicious poke bowls, dumplings, and tempura. Senior Roxie Bullock favors the "albacore garlic roll" because of its uniqueness of taste compared to other sushi restaurants. Bullock, along with many other high school students, recommends Full Moon Sushi because "it's affordable, great-quality sushi, and everyone loves going there."
Full Moon Sushi is perfect for any occasion with their friendly atmosphere, quick service, and delicious food for everyone.
Full Moon Sushi: 647 Camino De Los Mares, San Clemente, CA 92673