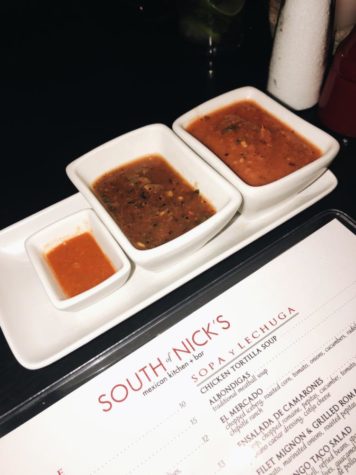 By: Claire Vlasic | Writer
March 7, 2018
The Best Salsa in San Clemente was voted to South of Nick's, located in downtown San Clemente on El Camino. With an outstanding variety of Mexican food, South of Nick's was recognized not only for its classy setting  and large dishes, but also for their tasteful salsa. There are three different types of salsa at this five star restaurant and the flavors include: spicy, chipotle, and mild. With a variety of flavors, it is no doubt that South of Nick's was able to pull away with the winning title, as customers love being able to have many options. 
Sidney Giles, senior at San Clemente, is a local fan of South of Nick's and their salsa and explains how she, "love[s] the environment there but the chips and salsa are the absolute best, I have to control myself of by the time my food arrives I am already too full to even finish my meal."  Junior Annie Gomez also agrees with Giles and further stated that, "[she] could honestly just have the chips and salsa for [her] meal and be a happy lady."
These high remarks made about South of Nick's salsa should give everyone the urge to go try it if you haven't, after all it is the best salsa in town!