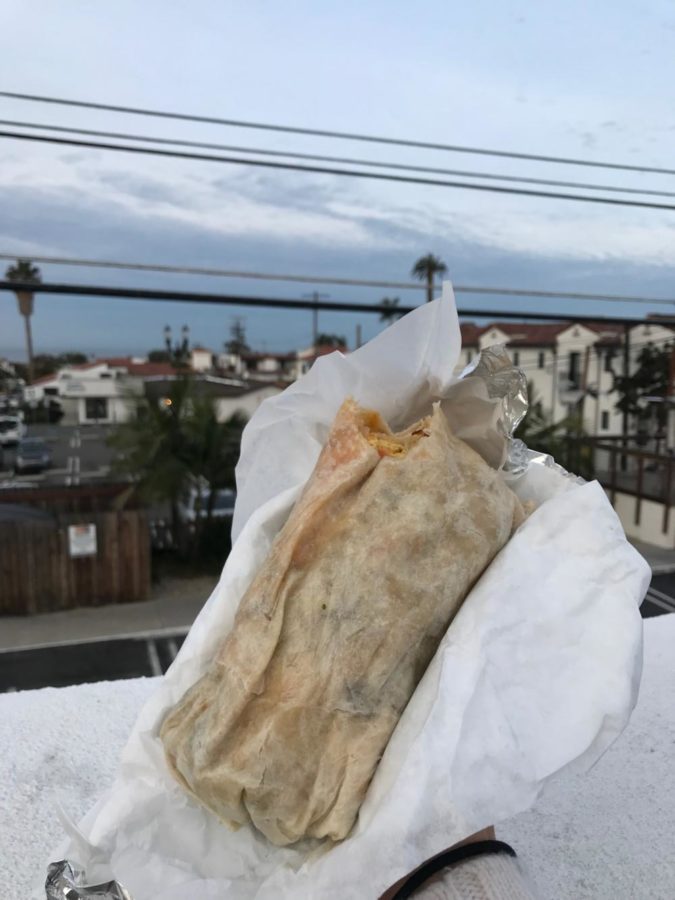 By: Flynn Lloyd | News Editor
March 7, 2018
At 202 N El Camino Real sits The Grill, an oasis for any breakfast lover.
At The Grill, their breakfast burrito is infamous around town, but for good reason. Biting into the vegetarian breakfast burrito is truly an out of mind and body experience. With a perfectly cooked tortilla embracing warm hashbrowns, spinach, mushrooms, tomatoes, and more veggies, this burrito fills you up with a warm, comforting feeling in the morning.
San Clemente senior Christian Plasso describes his experience with the burrito, "First the tortilla quality is second to none. The contrast between bacon, potato, and egg is perfect. The ratios are spot on, not a single aspect of the burrito is too overwhelming, the salsa has a kick but not too much."  As The Grill is located in the heart of town and is a family owned business, previously known as Surfin' Donuts, any SC local feels at home when they visit.
Inside The Grill, you'll find decorative tiles made by fans of the restaurant and a welcoming crew who greets customers with a smile. If you're not already planning your next trip down to the Grill, the location also offers a perfect spot to see a classical sunrise view San Clemente is known for.
Open between 6am – 2pm, The Grill offers many other breakfast and lunch items, although I strongly suggest the breakfast burrito if you want an amazing first impression. Whether if you have a sweet tooth and get fluffy blueberry pancakes or want a classic turkey melt, The Grill has many delicious options. Having been open for many years, the Grill provides nostalgia for locals.
San Clemente senior Robbie Campbell congratulated The Grill's win, "I went to Surfin' Donuts, or the Grill, when I was a younger after I would shred waves. The Grill is just classic quality food and they deserve to win." The Grill provides San Clemente locals a timeless breakfast that is fresh and delicious, so next time you're craving a pretty view, quality food, and a good atmosphere, give it a visit!