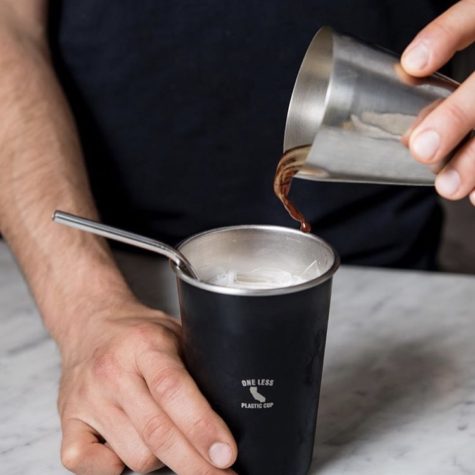 By: Jackson Hinkle | Writer
March 13, 2018
Bear Coast Coffee was chosen as the Triton Times' most eco-friendly eatery due to their dedication towards protecting the environment. From the production to the consumption of their product, Bear Coast's main focus lies in making great food and coffee that also heals the earth.
When asked what sustainability truly means to Bear Coast founder, Jeff Clinard, he responded, "Leave things better than when you found it. And that sounds simplistic, but can be applied everywhere."
Jeff provides ceramic mugs and stainless steel cups with metal straws to Bear Coast customers. In addition, Bear Coast sources their milk from Straus Family Farms. Straus runs on 100% renewable energy, uses reusable glass milk bottles to transport their product, maintains water conservation practices, and is currently advancing their fleet of vehicles into EV or low-carbon fuel trucks to replace gas-powered transportation. Bear Coast also makes their own almond and oat milk. These two milks are sustainable alternatives to regular milk and conserve a great deal of water in their production.
When asked what San Clemente High School senior Drake Abrahamsson thought about Bear Coast's eco-friendly practices he stated, "It's great to know that the best coffee in town is also the most sustainable coffee around." In the future, we can only hope that businesses take notes from Bear Coast Coffee and begin taking the necessary steps to prevent the environmental degradation of our planet.