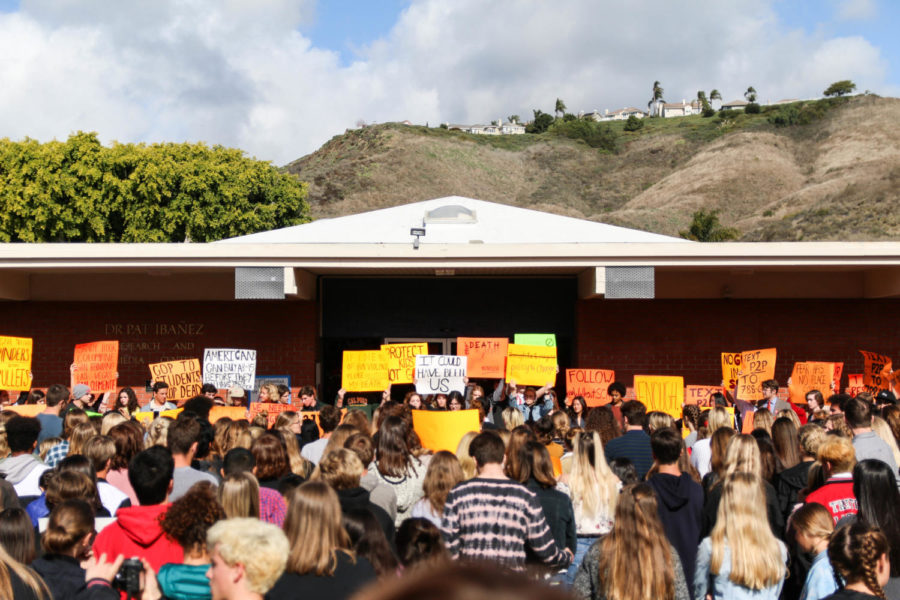 By: Meghan Byrne | Writer
March 23, 2018
On Wednesday, March 14, at 10:00 AM, thousands of students across the country made headlines by participating in the National School Walkout. At San Clemente High School alone, an estimated 1,000 students marched out of their classrooms to assemble in front of the library. Among a sea of orange posters, teens stood on tables and benches to watch the speakers, a group of activists from the school who spoke out against gun violence and who called for stricter gun control within the United States. The demonstration was immensely powerful and emotionally moving; a day of remembrance for the victims of the Parkland shooting on February 14 and a rally for the nation's youth to fight for gun reform.
Yet this movement, characterized by its appeals for safer schools across the country, was met by opposition: a group of dissenters with green posters, advocating for the protection of their Second Amendment right to bear arms. These students' posters bore statistics about leading causes of death in the United States aside from gun violence, including abortion, obesity, and heart disease — factors unrelated to the topic of school shootings, evidently in an attempt to undermine the frequency and magnitude of these tragedies. Ironically, these self-proclaimed "anti-protesters" also accused the participants of the Walkout of politicizing the deaths of victims of gun violence.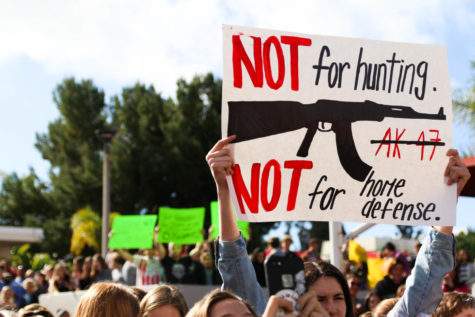 While all Americans have the constitutional right to assemble, these anti-Walkout protesters hit a sour note with many of the Walkout organizers and participants. "This was not a 'protest,'" says San Clemente senior Carni Campbell. "It was a movement to remember and call for action."
Every demonstration across the nation took on its own personality. At some high schools, organizers read the names of the victims of the Parkland shooting; at others, participants arranged seventeen empty chairs in a circle to symbolize those lost to the tragedy. But at San Clemente High School, with posters and speeches advocating for stricter gun control, could the National School Walkout really have been what its proponents claim it to be — a day of remembrance and support?
In evaluating the validity of this description, skeptics can turn to the survivors of the Parkland shooting for a clear picture of the movement's objectives. Emma González, a senior at Marjory Stoneman Douglas High School, has received significant media attention as a survivor of the February attack, functioning as a symbol for the revolution that she and her peers seek to ignite. In a tweet, González explains, "This isn't about Republicans [versus] Democrats[…] Plenty of Republicans are openly with us and plenty of Democrats are openly against us. Any politicians being funded by the NRA and/or those voting against us every chance they get – on these people, we call BS."
"We call BS" is a slogan coined by the Parkland survivors, who incidentally could be found guilty of "politicizing" the traumatic incident they endured. The slogan emphasizes the frustration that youth activists feel with their elected representatives, who they believe have failed to do the one thing they are elected to do — to represent their constituents. The words of González and other survivors of the Parkland shooting have echoed across the country, inspiring other high school students to invent their own slogans to express their support for the survivors. At San Clemente High School, students spoke out against the cycle of "thoughts and prayers" that routinely follows gun violence in schools, adopting the phrase "no more" to embody their call for action.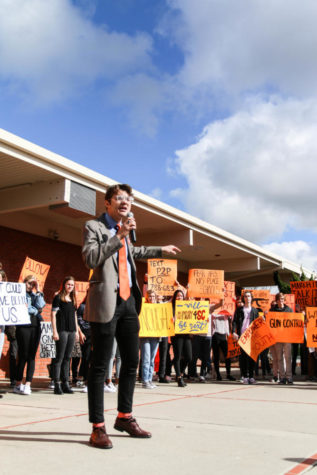 González is not alone in her call for change. Aidan Loughran, 22, is a survivor of the 2013 shooting at Arapahoe High School. Before the tragedy at her school five years ago, Loughran tells Triton Times she "was naive to [the possibility of a shooting]. I never thought it would happen to me. Even after Columbine, it never occurred to me that it would ever be in my own school." But after the 2013 shooting, Loughran says she "realized there should be different gun laws, because the ones we have now are making these tragedies much more frequent."
If the words of these survivors don't speak loudly enough, we can look to the statements by the victims' parents. Fred Guttenberg is the father of fourteen year old Jaime, one of the seventeen victims in the shooting at Marjory Stoneman Douglas High School. Since the tragedy last month, he has been advocating for gun reform. "No other parent should ever have to go through what my family and sixteen other families are going through," he said during a day of advocacy in Washington. Republicans in Congress refused to hold a formal hearing for the survivors of gun violence, so Guttenberg spoke to Congressional Democrats in the basement of a building in the Capitol, alongside the parents of victims of other mass shootings, including Virginia Tech and Sandy Hook. For years, many of these parents have relived the trauma of losing a child to gun violence by witnessing the grief of other families experiencing the same fate. In 2012, the children lost in the Sandy Hook shooting were six and seven years old; their peers, the survivors, are now twelve and thirteen, entering middle school, and have only seen stories like theirs become more commonplace.
Now, more than ever, it is important to listen to those whose lives have been changed by school shootings — important for politicians looking to be re-elected, but also for society at large. The Columbine shooting occurred nineteen years ago, yet the frequency of school shootings seems only to be increasing. America has become so desensitized to gun violence that some of these stories don't receive national media coverage; evidently, it takes a certain death toll for a tragedy to receive media attention. But the Walkout organizers, these youth activists and future leaders, know that even one life lost in a school shooting is one too many. Whether politicians in Washington like it or not, these students are the voters of tomorrow and the next generation to fill the seats in Congress. All those who dismiss the Walkout participants as teenagers jumping on a bandwagon will eat their words as gun reform becomes a reality in the coming years, because if these kids have the power to rally thousands of their peers across the nation today, they have the power to put their demands on the ballot once they reach voting age.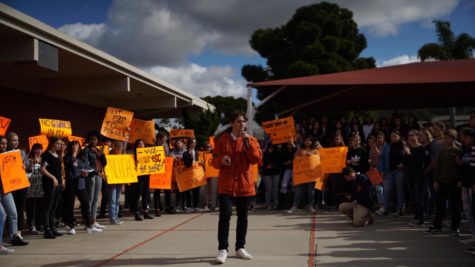 Ultimately, the National School Walkout was planned from a place of respect and support for the survivors and the victims of school shootings. Anti-protests were not. Activists from Marjory Stoneman Douglas High School have openly supported the Walkout, as well as March For Our Lives, a nationwide demonstration set to take place on March 24. None of them have defended the current legislation regarding gun regulations.
Thus, not only are the counter-protesters guilty of politicizing the deaths of children, but they have completely disregarded the views of those personally impacted by gun violence. They have attempted to drown out the voices of parents, siblings, friends, and classmates of the victims of gun violence by shouting about statistics irrelevant to the movement for safer schools. Their movement has feigned support for the lives lost in order to promote an agenda that has, thus far, failed to correct a problem that began nearly twenty years ago and has only escalated since.
Frankly, the morning of Wednesday, March 14 was not an appropriate time to talk about the Second Amendment. It was not an appropriate occasion to discuss abortion, obesity, drunk driving, or any other cause of death in the United States. The National School Walkout was designed to serve as a memorial to the victims of the Parkland shooting and to call for a movement to prevent future school shootings. The root of the issue with school shootings will not be solved with a "Walk Up" movement, which places the responsibility on students to prevent gun violence in their own schools by reaching out to their ostracized peers. Bullying in schools has unfortunately existed for decades, while gun violence in schools has become a tragic trend within the past twenty years. This is why so many of the statements made at the Walkout called for stricter gun control in the United States. The event was not intended to be a debate, but rather an opportunity to recognize a problem and begin to work toward a real solution. In this time of mourning, the victims' loved ones and the survivors of the attacks deserve respect and support. On the topic of opposition to the Walkout, SCHS junior Sam Chen explains, "As a whole, we agreed as organizers to simply take the high road in dealing with hate and backlash[…] We felt as if fueling tensions and egging on their negativity toward us would do nothing but put more hate into a world with plenty already."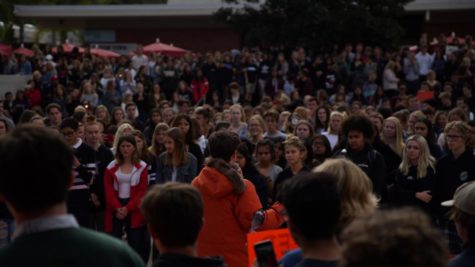 In the wake of the Walkout, Aidan Loughran expresses hope that there will be change. "I believe good overpowers evil. I believe in power in numbers, and I know all the kids [organizing] the Walkouts[…] have the numbers."
The goals of movements such as the National School Walkout and March For Our Lives may be clouded by all of the political discourse surrounding these events, but González sums it up by saying, "At the end of the day, we don't want people to have their guns taken away. We just want the people to be more responsible. We want civilians to have to go through more rolls of red tape to get what they want, because if any of that tape can stop those who shouldn't own a gun from owning a gun, then our government will have done something right."