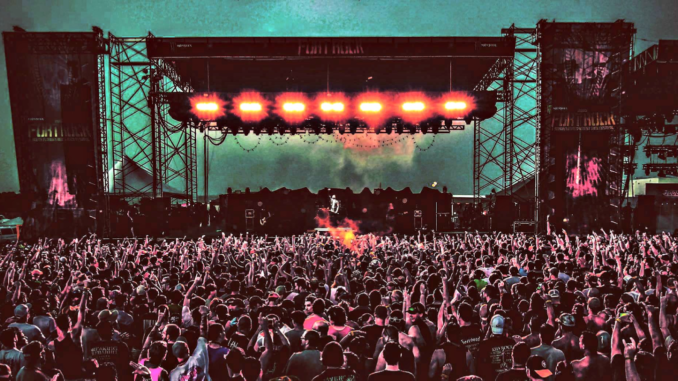 By: Danny Olivares | Arts & Entertainment Editor
May 27, 2018
The school year is finally coming to a close. Before your classmates can ask you this question a thousand times, I'm going to beat them to the punch: what are your plans for summer? Many of you will probably say "stay at home and binge watch the Office again on Netflix." This is completely understandable but why not spice up your three months, if you want your summer to rock I have compiled a list of the top anticipated acts and events that you don't want to miss.
Marilyn Manson and Rob Zombie: The Twins of Evil Tour- The Second Coming
Considered to be gods of the modern goth and spooky kids, it's not the first time that these two titans have toured together. Back in 2012 the tour grabbed a lot of controversy in the rock community due to friction between Zombie and Manson. Thankfully, the duo have now buried the hatchet and are now prepping for this summer tour. Manson gained popularity in the late 90's making headlines and sparking controversy for his ghoulish appearance, explicit songs and very shocking/blasphemous performances on stage. Zombie emerged from the late 80's with his hard rock band White Zombie, whose aggression blended perfectly with their retro-horror aesthetic; Zombie later went solo in the 90's and became bigger than ever. Manson has recently released his 10th studio album Heaven Upside Down back in October 2017, which has been well praised by both fans and critics and is considered Manson's comeback to his darker and aggressive roots. Rob Zombie just released Astro-Creep: 2000 Live – Songs Of Love, Destruction And Other Synthetic Delusions Of The Electric Head (Live At Riot Fest) back in March of this year. This is live cover of the songs in his album Astro-Creep: 2000 that he made with his old band White Zombie.  Rob Zombie's concerts are famous for being very theatrical performances that consist of horror movie props and lots and lots of pyro, it would be interesting to see how this mixes together with Manson's own stage performance. You will be in for one hell of a time! California dates include: 
Aug. 24 – Chula Vista, CA @ Mattress Firm Amphitheater
Aug. 28 – Concord, CA @ Concord Pavilion
Aug. 29 – Irvine, CA @ Fivepoint Amphitheater 
2. Warped Tour 2018
Warped Tour is a traveling music festival that has toured extensively across the U.S annually each summer since its humble start in 1995. Aside from it being the largest traveling music festival in the United States, it is also the longest-running touring music festival in North America with 25 years in the making! In addition, Warped Tour is also famous for being a festival whose acts consists solely of rock groups. Many rock bands that we know and love started off as fledglings who played on Warped Tour during the summers: No Doubt, Pennywise, Social Distortion, NOFX, Bad Religion, The Descendents, Rancid, Anti-Flag The Offspring, Blink-182 Fall Out Boy, My Chemical Romance, Avenged Sevenfold, Green Day and many more. Sadly, this beloved festival will run its final course this year due to a change of heart by the owner Kevin Lyman who publicly stated "I think that we have done everything we can in the format that it is in and on a personal level, I am looking for new challenges." SCHS senior, Briejenn Kopleman stated, "Personally I find this to be a selfish reason to pull the plug.  Alternative teens who don't give a damn about Coachella look forward to this festival each year. I went for the first time with my best friend last year and it was one of my most favorite experiences. It's almost a kind of right of passage for alt. teens and Lyman wants to end it because he 'doesn't feel like it doing it anymore.' I will for sure buy my ticket." Regardless, this farewell tour will without a doubt be epic and I know that the bands attending will give it their all. California dates include:
6/21 POMONA, CA
6/22 SAN DIEGO, CA
6/23 MOUNTAIN VIEW, CA
6/24 VENTURA, CA
3. The Smashing Pumpkins: Shiny And Oh So Bright Tour 
One of the top alternative music acts of the 90's are back on the road again but this time with a twist! Smashing Pumpkins will be performing songs exclusively from their first 5 albums: Gish, Siamese Dream, Mellon Collie and the Infinite Sadness, Adore, and Machina with three of the four original members of the band reuniting together for the first time in 18 years. Starting at the birth of the American "grunge movement," Smashing Pumpkins is quite a unique band who managed to create a unique sound of angst, whimsy, and melancholy that many later bands tried to recreate.  Although Smashing Pumpkins recently toured with Marilyn Manson back in 2015, the band felt it was time to pay homage to fan favorite pieces since this year marks their 30th anniversary. When asking SCHS senior Nevena Guzman how excited she is for the tour she responded "I cannot wait! Smashing Pumpkins is one of my favorite bands ever. I saw them in 2015 and I'm happy that I will be seeing them again performing some of their best workk." Calfornia dates are: 
August 27, 2018 Oakland, CA Oracle Arena
August 28, 2018 Sacramento, CA Golden 1 Center
August 30, 2018 Los Angeles, CA The Forum
September 01, 2018 San Diego, CA Viejas Arena
So what are you doing?! Go out and make your summer epic!