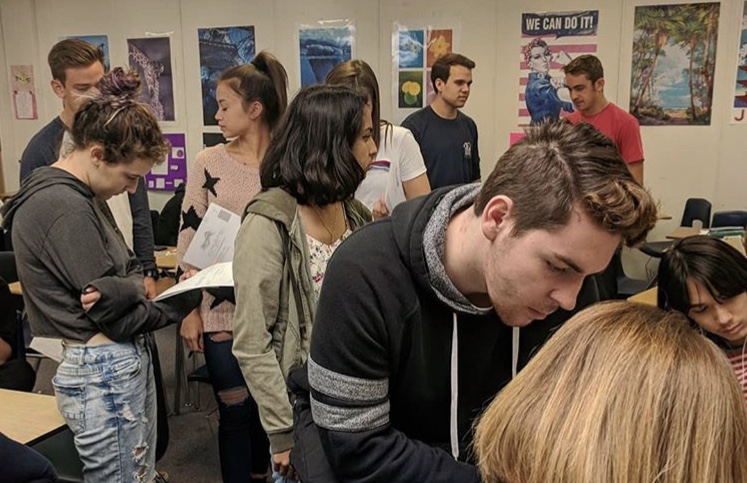 By: Jackson Hinkle | Writer
May 25, 2018
On May 16th and 17th, San Clemente High School students led a non-partisan voter registration drive during tutorial and lunch periods. Nearly 30 students joined forces for the drive in an effort to register as many of their peers as possible. The organizer of the drive, Sutton Loughran believes that this effort to register young voters could "bridge the disagreements so many students had after the walkout to end gun violence. The goal of this voter registration drive is to empower the youth, and its important to bring in all sides of the political spectrum." Though the main motivation for organizing the event lied in encouraging voter participation amongst young people, some San Clemente High School Students were even more passionate about registering a greater number of voters than their rivals at San Juan Hills High School, who registered over 630 students in a four day period.
San Clemente students faced a clear obstacle, as they only had two days to break the record. Surprisingly, when all was said and done, the volunteers had registered or pre-registered a grand total of 752 students! This not only broke the record for most students registered at any school in Capistrano Unified School District, but it broke the record for all of Orange County! Not to mention, San Clemente also now holds the record of the largest number of students registered in a single day at 410.
Students who planned on registering to vote made sure they came to tutorial or lunch prepared with their driver's license number or the last four digits of their social security number. The Orange County Registrar of Voters requires all new registrees to provide one of these two numbers to legitimize their forms.
The fundamental fact of our electoral process is that you cannot vote if you are not registered. San Clemente High School senior, Jake Rybczyk, encouraged students to register by telling his peers that "This is your chance to make a difference. You can now use your voice and be the vote that dictates an election!" The first step in ensuring that young people cease to be underrepresented in the American electorate is to institutionalize access to voter registration. Despite significant gains in voter turnout over the last decade, young people still lag a great deal behind other generations and subsequently have virtually no representation in American government.
Fortunately, the State of California has for the first time made pre-registration available for eligible 16 and 17 year olds by visiting registertovote.ca.gov. California youth who pre-register to vote will have their registration become active once they turn 18 years old. Pre-registration does not change the voting age, which is 18. Instead, it allows eligible Californians ages 16 or 17 to complete the voter registration form, providing sufficient time and opportunity to get ready to vote.

Last week, youth-activist David Hogg tweeted, "If the government has enough info to send me a draft card on my 18th birthday they should just register me to vote while they're at it." This statement poses the question to our elected officials, "when will we begin to see automatic voter registration implemented in every state?" For a number states and districts in the United States, the answer to that question is: right now. Four states have already implemented automatic voter registration and nine others have enacted bills to do the same.
The United States trails most developed countries in voter turnout, and is becoming increasingly apparent that there needs to be a change in the system. Our country was founded on the idea of democracy, yet a democracy is only as good as the level of participation amongst its citizens.