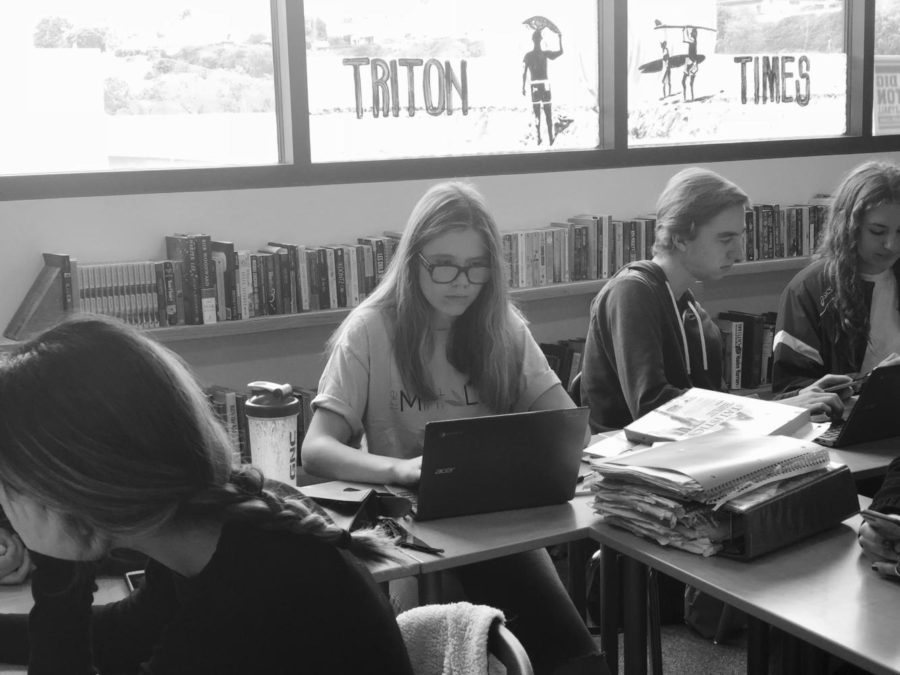 By: Chloe Rudnicki | Editor in Chief
May 25th, 2018
When I first trudged bleary-eyed into zero period newspaper three years ago, I didn't know what to expect. I knew I loved to write and I wanted to push myself beyond the basic A-G requirements to make my time in the classroom more than simply maintaining a strong GPA. What greeted my eyes when I entered Mr. Miller's room early that morning was a ragtag group of almost twenty juniors and seniors boasting glazed eyes set above dark circles. Triton Times was a solely digital creation inconsistently updating, with students scouring the internet for photos to accompany articles that, aside from a few shining exceptions, rarely broke 200 words.
I was uncertain about my place helping develop the fledgling paper, but when I wrote my first article, Millennials: Who Are We? I was hooked. Possessing a platform through which I could explore complex political issues and sociocultural trends with nearly unbridled freedom empowered me to push myself as a writer and honor my own voice.
Especially that sophomore year, I spent hours drafting and redrafting my articles, striving to achieve the perfect articulation of my thoughts and interpretation of whatś going in an increasingly chaotic world. Other less nerdy peers had the opportunity to craft movie reviews, vidoes, creative writing pieces, and whatever else captured their personal ethos. The absence of a fully fleshed structure gave us- writers and editors alike- the freedom to establish our own rules and shape the Triton Times in  our own image as we've matured and grown the past three years.
No rules allowed us to figure out what we wanted this paper to be, and in the process, discover a little bit more about ourselves as students trying to do the spread of information justice. Knowledge is power, and as the only school publication, we had the power to determine what what's important, what isn't, and how best to recognize all students' right to express themselves. In todayś day and age when the media is increasingly under fire, this paper has been pivotal in helping me and my peers remember and protect truth and balance in the media. And while we made strides in creating a paper with integrity, there is still a ways to go in making Triton Times the best incarnation of itself possible.
The metamorphosis Triton Times has undergone since is extraordinary. Albeit still largely digital (a reflection of the evolving media landscape and availability of funds), the paper now boasts two print editions, a Snapchat team, and its own photographers. The class, once skeletal and only filling two thirds of the seats, is now 40  students strong. My personal metamorphosis- from bright eyed sophomore to (partially) disgruntled IB senior, has accompanied it. . It's surreal to think I'm leaving San Clemente and Mr. Miller's newsroom for Boston University and The Daily Free Press. I'm elated to challenge myself in new ways with different writers in a different newsroom, but it will be hard to top the magic of watching Triton Times grow up with me.
While it's disconcerting to know terrible 6:40 a.m. photographs of me will forever immortalize my time as a sleep deprived high school student on the internet, I am grateful to have been apart of this paper's infancy and can't wait to see how future students make this paper more than myself or any of the founding students could ever imagine. It's on to bigger and better things- both for me and this paper.
Signing off,
Chloe Rudnicki | Editor in Chief 2017-2018