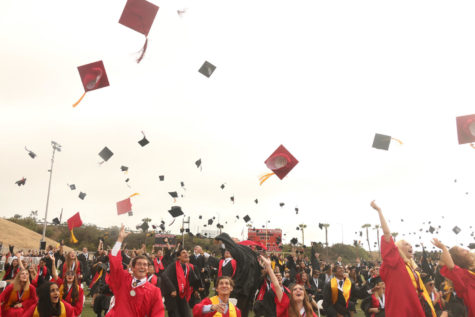 By: Josh Greene | Media Editor
May 31, 2018
With graduation just around the corner, San Clemente High School's class of 2018 prepares their grand exodus from secondary school into the adult world.
Held on Thursday, June 7, 2018, the ceremony will occur in Thalassa Stadium at 4:00 pm, lasting approximately an hour and a half. In the ceremony, the school intends to honor the graduates with a dignified, yet spirited event.
As for attending the event, students will be provided with six accommodated guest tickets for family members and friends. Families that require more guests can purchase additional tickets for $10.00 each in the Activities Office, cash or credit only (no checks). Tickets can only be purchased by current SCHS seniors, and they must have an SCHS ID card present. Tickets will be on sale before school, during break, and during lunch,
"Even though the sale officially ended, seniors can still purchase tickets from Amber in the Activities Office if need be," explained Activities Director Matt Reid during an ASB formal meeting.
Students will pick up their tickets on June 6th at the cap and gown distribution from 9:00 to 10:30 am at the Stadium Snack Bar. Then, students must attend the mandatory graduation rehearsal at 9:00 am on Thursday, June 7th.
When arriving at graduation, students must park on upper campus. Students must be on time and arrive no later than 2:45 at the auxiliary gym for the processional lineup.
As for dress code, besides the cap and gown, boys are recommended to wear a collared shirt, tie, and nice pants, while girls are recommended to wear a nice sun dress, or a blouse, and nice pants (SCHS Website). Students are expected to practice mature behavior and etiquette, and refrain from any distractions that would take away from the event.
Finally, students shall prepare for the moment they've waited all of high school for: grabbing their diplomas. As each senior's name is called, he or she will walk across the stage and receive a diploma cover.
"I can't wait until I finally hold my diploma," explains senior Tyson Mehrens. "It will be such a great moment for me and my family."
In the ceremony itself, IB diploma candidates will wear red in the front set of chairs, while Valedictorian students (4.0 GPA and above) will wear white behind, and remaining Tritons wear black. Yet despite these distinctions, they all share a common bond on that field; they're all leaving Thalassa Stadium as San Clemente graduates.