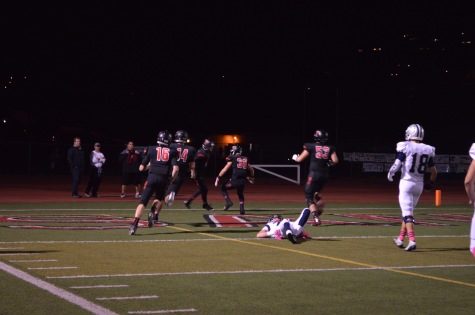 By Taylor Beard | Photos: Madi Hawksley | Sports/Arts & Entertainment Editor
November 10, 2014
San Clemente 42, Trabuco Hills 35
Thursday night in San Clemente was chalk-full of action; between the nail-biting league-clinching football game against Trabuco Hills High School and a colossal accident on the north bound I-5.
The accident involved numerous automobiles and, most importantly, a giant crane which reportedly tipped over as it made it's way driving down the freeway, right next to Thalassa Stadium. The crane blocked four of the five lanes and took just over 8 hours to move.
Meanwhile, right next door, the San Clemente Tritons were dealing with a mess of their own. The Tritons headed into this game in the hopes of clenching their first league title since 1999 and it would ultimately come down to quarterback play.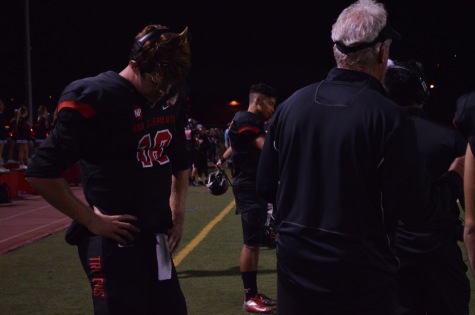 The quarterbacks that faced off against each other were senior Jimmy Jacobs for Trabuco Hills and Sam Darnold, senior quarterback for San Clemente.
In the first quarter, San Clemente came out strong with a quick touchdown  right off the bat. The two teams then exchanged scores to make the score 14-7 Tritons.
Once the second quarter started, Trabuco scored two more passing touchdowns while San Clemente answered with just one, leaving the halftime tie 21-21.
The crowd was pumped and was revving up the San Clemente football players to bring in this league title. The fans chanted  "Let's go SC!"
The third quarter started with a bang with San Clemente scoring three touchdowns, highlighted by a long scramble from Darnold.
Holding a 42-28 lead, San Clemente needed to defend their lead going into the fourth quarter. Allowing one touchdown and holding off the Mustangs despite numerous close calls on the goal line, the Tritons prevailed 42-35.
San Clemente is now the Sea View League Champions, capping off a strong season which saw the Tritons post a 9-1 record in their first season moving down leagues from the South Coast League.
Trabuco Hills' Jimmy Jacobs finished the game 26/41 for 4 touchdowns and 401 yards. San Clemente's quarterback, Sam Darnold threw for 168 yards on 14/18 wit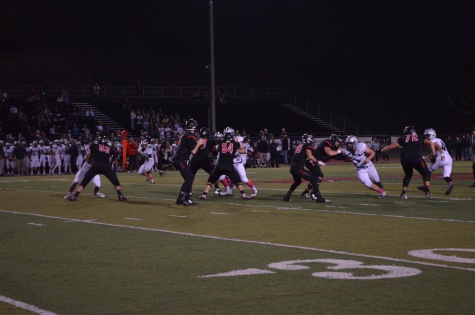 h two touchdowns. However, Darnold added 62 yards on the ground with a score.
Just this past Friday, November 7, the Tritons beat the Aliso Niguel High School Wolverines 56-15 to put an exclamation point on their already stand-out season.
Their next game is this Friday night at Thalassa Stadium against the 5-5 Fullerton High School Indians. Be sure to come out and support the Tritons at 7 pm as they hope to make it to the CIF Championships!