By Mohammed Taei | Graphics/Writing
November 6 2014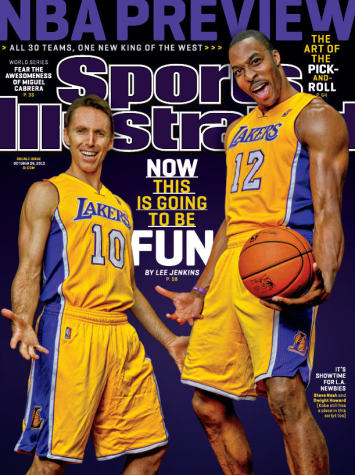 It's official – the Lakers trade a measly first round pick and the trade exception they received for trading Lamar Odom for Phoenix Suns and NBA legend, Steve Nash.  Guaranteeing a 3 year, 27 million dollar deal which is a reasonable amount for a player seemingly approaching the twilight of his career. They also traded away disgruntled All-Star center Andrew Bynum for Dwight Howard who, as expected, was waiting until the end of the coming season to sign his extension so as to get a longer and better-paying contract.
On the surface, these look like surefire moves to catapult them into the championship conversation. Giving up a few picks and a center with degenerative knees for, Defensive Player of the Year, Dwight Howard and perennial All-Star Steve Nash.
What could go wrong?
Everything.
One season removed from Dwight Howard escaping the Lakers upon reaching free agency coupled with Steve Nash's unwillingness to stay healthy, the Lakers have fallen to an inescapable hole.  Now they're off to compiling one of the franchise's worst start to a season ever.
The Aftermath
As stated, the Lakers are now left without either player they had traded for: Nash officially out for the season and Dwight left in free agency.
Those same traded picks to acquire Dwight and Nash are coming back to haunt them.
Their 2016 and 2017 picks belong to the Phoenix Suns and Orlando Magic leaving them with a slim chance of retaining either pick. There is a chance that if they do manage to continue their awful play and completely bottom out (getting a pick to fall in the top 5), the pick would eventually become unprotected in the next couple NBA drafts due to a change in the league's draft rules.
The only bright spot this season for the Lakers is a healthy Kobe Bryant. Bryant is looking like his old self again after a handful of devastating injuries but now he is stuck on a team with no starting caliber players.
The Lakers current best players are power forward Carlos Boozer (who was acquired last season after he had lost a lot of his minutes to super sixth man of the Chicago Bulls, Taj Gibson), point guard Jeremy Lin (who ost the starting point guard position on the Rockets to defensive stalwart, Patrick Beverly) and center Ed Davis (who was buried behind the big men in Memphis' rotation).
None of these players would start on most NBA teams but are currently trying to help Kobe Bryant win some games. However, that has yet to happen as they remain winless through five games, one of the worst starts in franchise history.