By: Amanda Cichewicz and Jorjiana Haumea | Photographers
September 11, 2018
The romantic comedy "Crazy Rich Asians" has people all over the world out of their seats wondering what is going to happen next. Featuring for the first time in American cinema, this movie features an all Asian cast and will make you fall in love with romantic comedies all over again. The film was released August 15th, 2018 and it instantly became a hit. The storyline is full of comedy, suspense, and romance and will make you laugh, cry, and cheer for the underdog. 
The movie is centered around a native New Yorker named Rachel Chu (played by Constance Wu) who grows up with a modest upbringing. She falls in love with a man, Nick Young (Henry Golding) but has no idea he comes from an extremely wealthy and powerful family from China. Nick's rich Chinese family and their traditions slam head-on with Rachel and her clearly more Americanized upbringing.
"Crazy Rich Asians" topped the box office making more than $25 million in its first weekend. It is has made cinema history being the first American film to have an all Asian cast. The film comes less than a year after the all African American cast from "Black Panther" sent shock waves throughout Hollywood.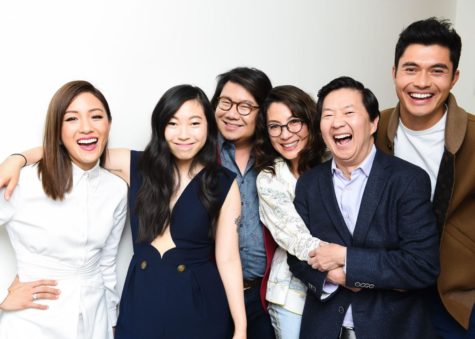 In spite of the historical significance of the movie, some felt that the movie stereotyped Chinese people and didn't show real Chinese culture. Junior Camie Ding  disagrees, saying she thought Asian culture was depicted well in "Crazy Rich Asians."
"It was really accurate of how actual culture was like," Ding said. "I found it really funny because I related on a super personal level because it pretty much describes all my relatives and my entire family. The stereotypes are so true how they dress is Asian-American style."
"Crazy Rich Asians" used stereotypes to make people laugh but it didn't fully capture the true essence of Asian culture. The movie centered around the rich of the rich and that is not how most people live in China.
Actress and rapper Awkwafina, who was born Nora Lum, stole the show playing Goh Peik Lin,  who was referred to in the movie as "Asian Ellen." She was an Asian with short dyed blonde hair. Every scene she was in was absolutely hysterical. Asked what drew Awkwafina to the role she said that it is an important story, both in the way the Asians and Asian-Americans take centre stage, and in the way it is a universal story that anyone, anywhere in the world can relate to.  Awkwafina also starred in the movie "Oceans 8" starring an all female cast of Julia Roberts, Sandra Bullock, Rihanna, Anne Hathaway and more.  
The film's message is simply loving yourself, being in control, and solving problems with dignity. And this is shown through the main character Rachel Chu as her boyfriend's family repeatedly tries to knock her down but she perseveres and stands her ground. This aspect really shines throughout the movie and draws attention towards solving problems and loving yourself.
"Crazy Rich Asians" was really well done overall; the movie was very funny and kept the whole theatre laughing hysterically. All the characters brought their own unique talent and all worked well together, making the movie a huge success.