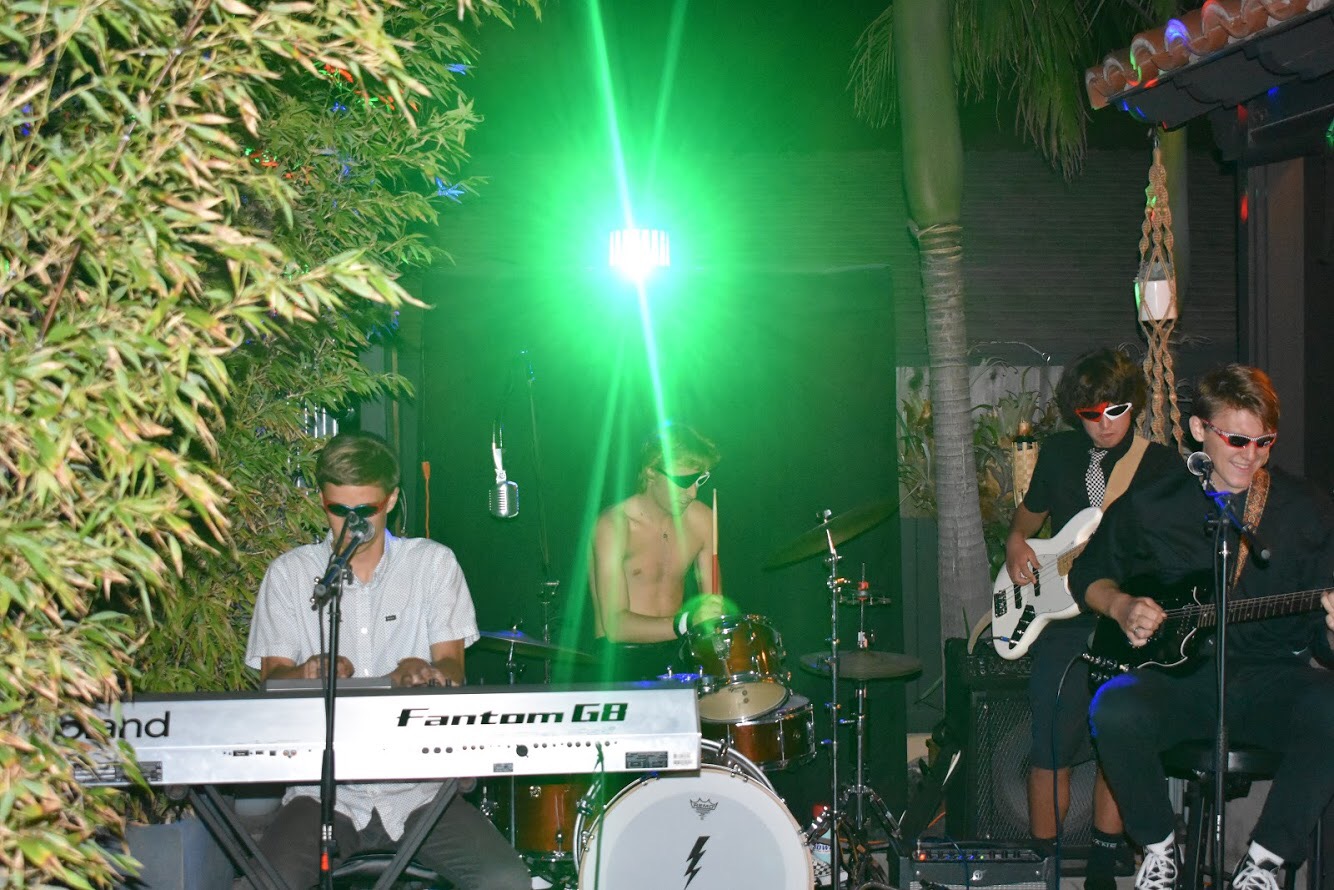 By: Sofia Helmle & Sam Giacobello| Writer
September 12, 2018
On the first of September, a band made up of San Clemente High School students held a concert for the masses dedicated to "music that doesn't get enough recognition today." Friends and students gathered at a band member's home to support their fellow Tritons and listen to the students' music on a Saturday night.
Odds & Ends held their first concert to kick off the school year, having only created their band a few months ago. Senior Foster Poling came together with fellow seniors Jonah Harris and Griffin Buchan, and freshman Hudson Poling earlier this summer through their love for classic music types that are beginning to die out as new genres take over teenage music taste.
"We are all really into punk, funk, and blues," Poling said. "It's sad to me that these genres don't get as much recognition as they are used to, so we are really just trying to keep these types of music alive in SC."
However, their love for this music genre was not the only reason Odds & Ends was created. When asked what the motives were for holding the concert, Poling explained how many teens in San Clemente are often without much to do. "There really isn't much to do besides go to the beach or go to the movies," Poling said. "Ever since the movie theater shut down, and it's getting colder out, there really won't be much to do."
As well as entertaining friends, Poling added, "We just love playing music for people and want to show people that the music we like is alive and well. Nothing makes us happier than seeing our friends grooving to some Ramones or James Brown."
Poling has been a drummer for almost five years now, and he was excited to finally be able to find friends that wanted join in on his venture of sharing his love of music to his peers. "It's been a really fun time meeting new people and seeing music from a whole new perspective," Poling explained.
The concert was a wide success among the SCHS student body. "We really only told about 25 people," Poling remembers. "But there ended up being more people that I had never met there instead, which is totally rad."
In fact, it wasn't only San Clemente students who came to watch their fellow classmates, but there were people attending from all over. "We even had a few people from Mater Dei come on down" Poling explains, thanking friends Trent, Jaden, and Jonathon for "making the trek" all the way from Santa Ana.
Poling remains excited and optimistic about the future of Odds & Ends. "We are most likely going to have shows over the next year, maybe even Halloween," he said. "Stay tuned to our Instagram @oddsandendssc for updates!"