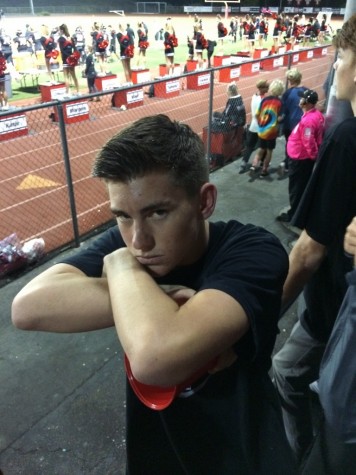 By Mikaela Mertens | Writer   &   Ryan Redivo | Photographer
November 14, 2014
This week's "Fan of the Week" is awarded to none other than senior Cole Wilson for being an amazing fan throughout our football team's outstanding season.
What makes Cole so special is not just that he makes it to every game, home or away, or that he is one of  the loudest members of the student cheer section (named The Swamp, The Black Hole or The Black Sea), it's that Cole is a tried and true face painter. He never failed to prove what a real dedicated Triton fan looks like, writing words of love and encouragement across his face for every game.
"It's just me: C-O-L-E," Wilson said. "If you don't like it, look away. But I'm coming, coming like a train – Choo! Choo!"
Senior Sam Darnold, San Clemente's star quarterback, told Triton Times that Cole is "A heck of a kid" and added that he can be "kind of an idiot, but a loveable idiot." Getting wild and crazy in the stands is part of Cole's mystique and Tritons understand it's just because of his love towards our school.
"If you can't seem to find Cole in the sea of students, look for the kid front row wearing a tritons football jersey," senior Ryan Redivo (another dedicated Triton's fan) told our reporters. "He's always screaming and standing up, he never once sits down during the entire game. He wouldn't give up that front row seat for his life."
"Cole is always excited for a game even if it is far away." commented senior Alexa Horvath, one of Cole's good friends since the sixth grade. "That's true dedication!"
Cole's attendance so far this season is 10/10, even giving rides to friends and throwing in a few underclassmen to get them to the game and cheering on the Tritons.
Oh and by the way, if you've ever wondered who started the cheers in the student section, it's Cole! "You can see Cole show up 15 minutes before the game, snag a front row seat, and warm up his voice for the long night of cheering ahead," said senior Jenna Rowan.
This Friday, the Tritons football team will face off in their first playoff match and you'll be sure to find Wilson sitting front row and leading our San Clemente fans.