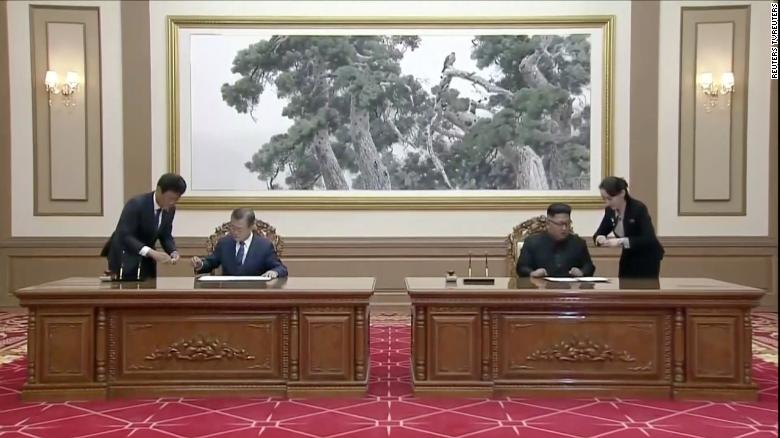 By: Sam Giacobello | Writer
September 28, 2018
Last winter, North and South Korea put aside their long-lasting feud to compete under one flag at the 2018 Winter Olympic Games in PyeongChang, South Korea. This public showing was the beginning of a new incentive to bring peace to the Korean Peninsula, as outlined in an April summit between the leaders of both countries.
On September 18, South Korean President Moon Jae-In traveled to Pyongyang, North Korea to meet with leader Kim Jong Un in order to discuss topics such as denuclearization, inter-peninsular relations, and military restrictions. During the three-day summit, the Korean countries agreed to abolish any underlying threats within the Korean peninsula, and North Korea once again expressed its willingness to dismantle its nuclear weapons entirely. The summit is being painted as a success by the two countries and by media sources, but there are many questions over whether the North Korean government's promises are sincere.
Many SCHS students share the world's skepticism about the results of the Korean summit and the practicality of the agreements made.
"I think it's good that North Korea is actually willing to talk to the South," senior Liam Guilfoil said. "But this isn't the first time they've promised to denuclearize and I doubt it'll be the last."
Others expressed hope and optimism about the agreements and the future of a tranquil Korea.
"I think it's very momentous that the two nations of the Korean Peninsula are getting together to solve their half century long dispute," senior Cory Sugano said.
While it is still unclear whether or not the Korean summits will actually make a difference in their actions, it is an interesting situation for people around the globe to follow and it represents a large step in their relations after decades of conflict and rivalry. Logically this will not be the last attempt to repair the relationship between North and South Korea. However, both countries are currently looking to make progressive change; the leaders already agreed for North Korean leader Kim Jong Un to travel to the South Korean capital of Seoul, making him the first North Korean leader to ever do so.