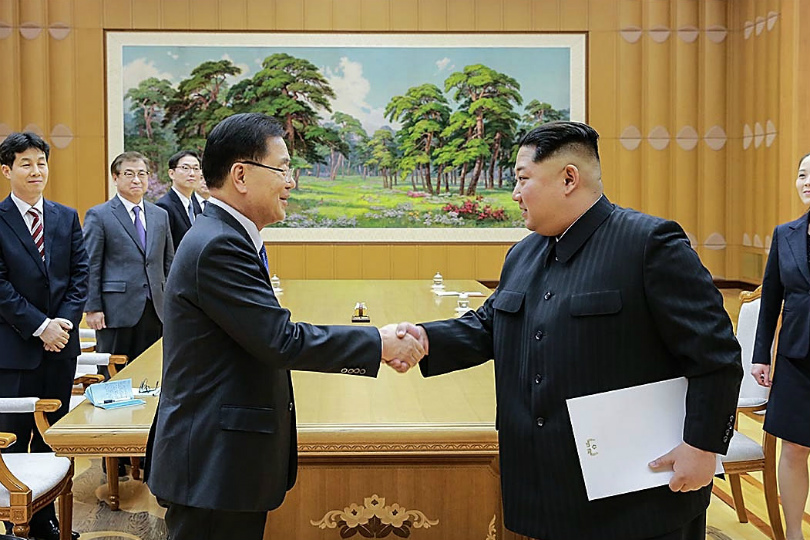 By: Julia Wilson | Sports Editor
September 28, 2018
From the mid 19th century to today, the relationship between North and South Korea has been as tumultuous as possible, filled with turmoil and constant threats of nuclear war. However, with North Korea now under the rule of Kim Jong Un and the South under Moon Jae-in, reconciliation between these two countries seemed almost possible.
Starting with South Korea's participation in 2018 Winter Olympics, both countries have began to make a valiant effort to better their relationship. The two countries both marched their athletes as one unified country of Korea in their 2018 Asian Winter Games.
In April 2018, North Korean leader Kim Jong Un and South Korean leader Moon Jae-in both agreed to sign the Panmunjeom Declaration for Peace. This declaration stated that both leaders would work to try and mend the relationship between the two feuding countries and eventually work towards the denuclearization of the Korean peninsula. On April 27, 2018, Chairman of North Korea Kim Jong Un said "We are starting a line today, where a new history of peace, prosperity, and inter-Korean relations is being written."
On September 19, 2018 for the first time ever, Jae-in crossed the DMZ, the border between North and South Korea, to speak to the North Korean public. Jae-in spoke publicly to a crowd of 150,000 North Korean citizens about the plans for peace and ending the threat of nuclear arms. After this speech, Jong Un said that he would be willing to "dismantle North Korea's nuclear weapons facilities if the United States took reciprocal action."
With the denuclearization of North Korea, Jae-in said that he would be "willing to declare the end to the war by the end of the year." Being close allies to South Korea, President of the United States Donald Trump and the United States government must decide whether or not to support the cause. A meeting between Kim Jong Un and Donald Trump is expected in the near future, which will dictate the outcome of the newfound relationship between North and South Korea.