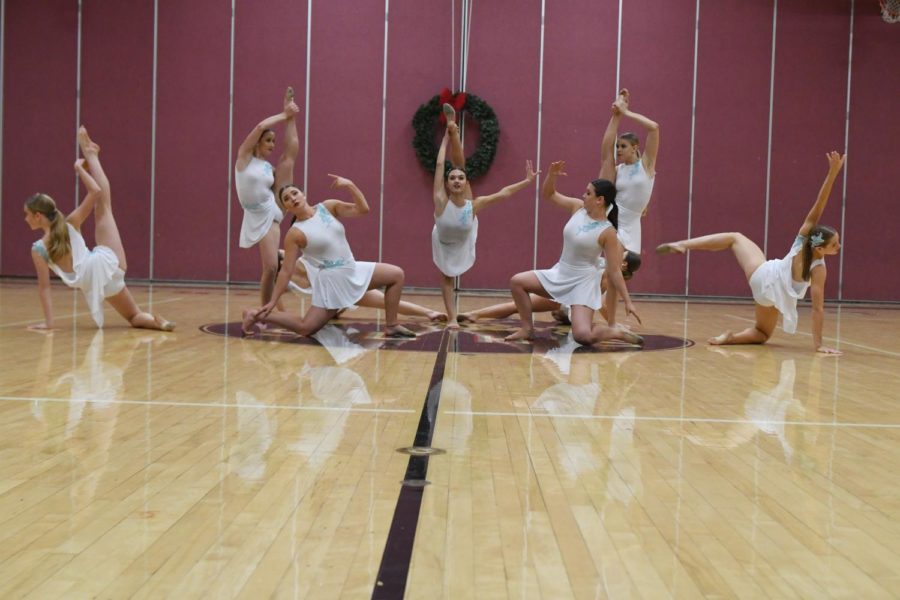 By: Sofia Helmle | Writer
December 5, 2018
This past Friday, Tritons gathered to watch our 2018-19 award winning Dance Team in their Winter Showcase.
Dance team has never before had a winter concert; however, the team decided to hold the showcase as a sort of "pre-competition" as their first competition takes place Saturday, December 8th.
The showcase had a variety of different performances all of which the team prepared for their competition dances for this upcoming 2019 season. The roughly two hour long performance featured different styles of dance that displayed the teams talent and how hard the dancers have worked for their successes. 
Senior and team captain Madison Nixon recalled her best dance of the night, saying, "My favorite dance is Large Lyrical because it is a happy dance and it is so nice to smile in a dance." Nixon explains that her captain position also allows her to "feel more invested in that dance" in comparison to the other performances of the night.
Fellow senior Lillian Lewis added to this conversation, explaining her favorite dance of the night, titled "Emerge" which is their intermediate piece. Lewis explains that she prefers this to the others as it is a very "powerful and expressive" dance. Lewis said, "It makes me feel strong and I am most passionate about that dance because of the emotion that it lets me portray through my dancing."
This showcase only signified the start of Dance Team's 2019 season and the bittersweet feeling of their last competition is beginning to hit the seniors of the team. Lillian Lewis describes the feeling by reminiscing on how fast the time on the team went by and how much the experience has changed her. She explains, "I'm very sad to know that my time on the team is coming to an end. Not only have I gained an entire team of sisters who support each other through this team, but I've also met my best friend."
Senior Madison Nixon has a similar perspective on how it feels to be a senior on the team. Having been on the team through all four years of her high school career, Nixon said, "I feel like it has defined so much of high school so it will be hard to leave it behind."
This competition season is just only beginning for the 2018-2019 dance team, and the thoughts of graduation and the end of an era allow the team to really think about what matters most. As Madison Nixon puts it: "Knowing I will have to leave [the younger girls on the team] is very difficult, but makes me enjoy each moment even more."