9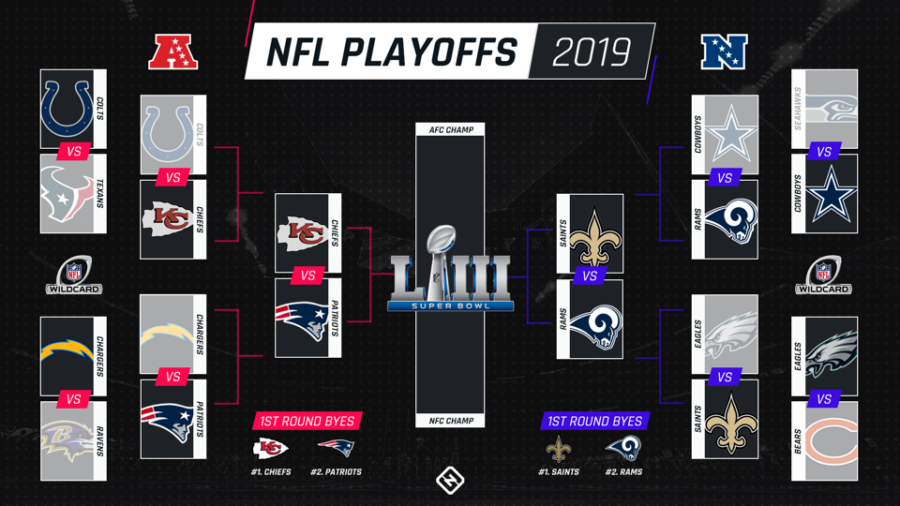 By: Sam Giacobello | Writer
January 9, 2019
The NFL Playoff conference championships are coming up this weekend, and the lineup looks about as predictable as could be. The top two seeds from each conference are competing to play in the Super Bowl, with the New England Patriots playing the Kansas City Chiefs in the AFC and the LA Rams facing the New Orleans Saints for the NFC title. This isn't too surprising, really, as every number one seed has advanced to this round for the last six years- besides the 2016-17 Dallas Cowboys. However, just because the semi-finals of the playoffs show no surprises, this doesn't mean there hasn't been any drama in the postseason so far.
The wild card round more held more upsets than any would have expected. In fact, three of four wild card teams pulled off upsets over higher-seeded teams. The LA Chargers alone won as a higher seed, only to be met by a Patriots team that was more than ready to send the Bolts back to Socal. The Philadelphia Eagles upset the Bears in a shocking manner as Chicago's Cody Parkey watched in horror as his last second field goal struck both the upright and the crossbar before coming up just too short for his team. "It was crazy to watch as an Eagles fan," San Clemente High School sophomore Aidan Giacobello said. "I was just hoping for that small chance Parkey would miss, and then it happened."
Only one more round of football games stands before the Super Bowl on February 3rd. The teams playing for the championship will not be decided until this Sunday, but one thing's for sure; two of the top four rated teams will advance no matter what happens. And with the biggest game of the season falling one week before Winter Formal, it will be a great time for everyone to sit down with friends and enjoy a great game of pigskin.
"I always have a party and invite my friends to watch with me," senior Spencer Buress said. "That's what I'm looking forward to the most even though my team won't make it in."