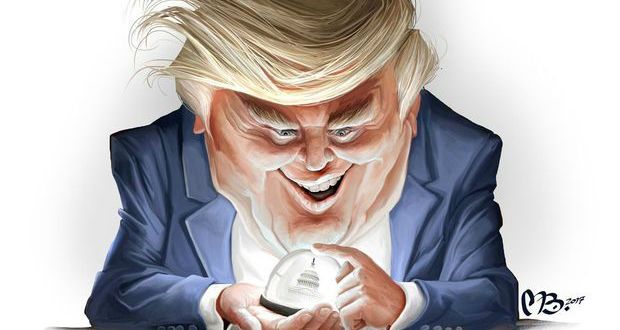 By: Abigail Calandra | Writer
December 10, 2018
Following two months of almost complete and ominous silence during the midterms, Special Counsel Robert Mueller's team appears to be ratcheting up its investigation. Despite Trump installing Matthew Whitaker as acting Attorney General, who was appointed for the express purpose of suppressing the Special Counsel investigation, it has only accelerated since his appointment.
It's worth noting that countless former Justice Department attorneys and staffers have signed a letter opposing Whitaker not only because his appointment violated the Constitution, but because he acted as an advisor to a Miami patent company accused of fraud and tried to intimidate those making complaints by threatening legal action. There's nothing funny about (or scarier than) a guy that looks like Thing from Fantastic Four threatening you with legal action. More importantly, he's spoken out repeatedly against the investigation into Russia's interference in the 2016 election.
So it's only a matter of time before the hatchet man gets involved. And you can bet it will be with all of the subtlety and finesse of a former linebacker. As Mueller inches ever forward, towards what we can all assume will be a colossal political and legal disaster, we can all hope Whitaker is as ineffective as he is unqualified.
As the list of former White House staffers transitioning from Team Trump to Team Mueller continues to expand, the noose around Donald Trump's neck grows tighter.  He seems to be struggling more than usual to remain presidential. Of those cooperating with Mueller is his ex-Lawyer and BFF, Michael Cohen – his sentence was announced this Wednesday, December 12, for three years in jail. And more recently, with the revelation that Michael Flynn met with Mueller 19 times, people close to Trump are flipping at an alarming rate. Flynn was so helpful, in fact, that Mueller is recommending little to no jail time.
After just 24 days in office, National Security Advisor, and spokesperson for the "Lock Her Up" Campaign, Mike Flynn was forced to resign, announcing to the public that he had lied to Vice President Pence about sanctions in Russia. This was another elaborate attempt by the Trump Administration to cover up the ugly, orange truth: Flynn had admitted to lying to FBI agents regarding contact with the Russian ambassador Sergey Kislyak. He had urged Russia to interfere with a U.N Security Council Resolution that would have denounced Israel's building of settlements in both East and West Bank Jerusalem, something Obama had already agreed to.
And that's just the tip of the iceberg.
But as soon as he was caught, Flynn started to sing and hasn't stopped since, leading to what will undoubtedly result in a reduced sentence for his treasonous crimes. "The democrats are going to do everything they can to bring charges up against him," San Clemente High School junior Macie Brown said. "He will look to get pardoned by the end of his term." Clearly to a signal to other potential Mueller flips: You play ball with us, we'll play ball with you.
For his part, Cohen has pleaded guilty to lying to Congress and will be cooperating with Mueller's investigation, suggesting he is of continued use to the Special Counsel. Since Cohen's guilty plea, it seems as though everyone has been ignoring that the President was still actively pursuing Trump Tower in Moscow as late as six months before he became president. What's more alarming is that Cohen claims to have lied to the to Senate Intelligence Committee "out of loyalty" to Trump and his political agenda. It's not much of a leap to think that there was instruction from someone prior to his Senate testimony.  But Trump has denied all of Cohen's claims, deeming him to be a liar and a "weak man." In a string of tweets last week, Trump announced he was only "lightly" looking at a possible Trump Tower real estate in Moscow, but backed out when he felt his empire would not benefit. Anyone with above a fourth grade education knows that's a lie. Trump has been trying to get a building in the Red Square since the 1980's. Rumor has it, he even offered Vlad a $50,000,000 penthouse for FREE to grease the wheels.
Cohen admitted that the discussions with respect to Trump Tower Moscow continued at least until July 14, 2016, six months later than what he first told Congress. While Cohen worked alongside an associate to plan a trip to Russia, the Russian government was in contact with Cohen, including a 20 minute exchange over the phone. On the same day that the Russians hacked the Democratic National Committee computer network, the United States general public was exposed to their first piece of evidence in regards to Russian collusion in the 2016 election. Soon after Cohen's appearance in court last Thursday, Trump and his staff canceled his meeting with current Russian presidential-dictator last week at the G20 summit in Argentina and due to tensions between Ukraine and Russia, which is a slight that undoubtedly won't sit well with Putin.
As the investigation moves ever closer, Trump is banging out tweets with his short, fat little fingers like a Kanye off his meds, or fighting for his political life. The barrage of angry tweets includes all the go to classics like Mueller's "Witch-hunt" and "The Fake News Media" and claims that Mueller is doing "TREMENDOUS damage to our Criminal Justice System." If it were anyone other than Trump,  you would say that they were spiraling. But for Trump, this is just the regular, stupid status quo. "I really hope it is enough to impeach him… but being Trump he seems to be able to get away with everything," junior Vivian Worthington said. "I don't think something as awful as colluding with Russia will stop him." Despite Sarah Huckabee Sanders' painfully dishonest insistence that there is "no concern" because there was "no collusion," there was a whole bunch of other shady stuff that sure looks a lot like perjury and obstruction of justice.
Batten down the hatches cause there's a storm coming to Mar-a-Lago.