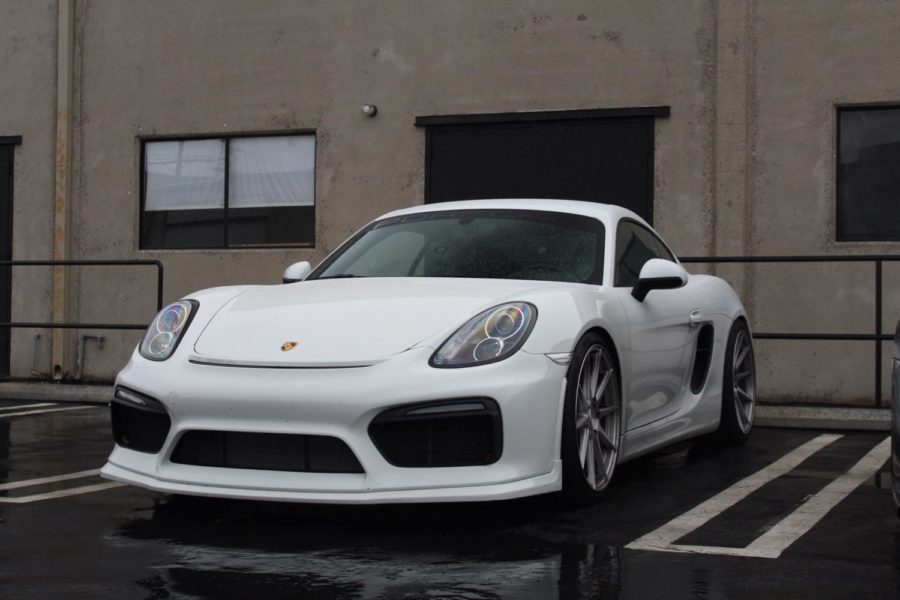 By Eva Gardner | Photographer
February 8, 2019
A running joke in the car community is that "supercars melt in the rain." Not for this car meet, though.
Doubling as both a car meet spot and a vintage racing shop, Period Correct Pit Stop lives up to its name. Entering the shop, hundreds of vintage magazines line the walls with racing photos to decorate. A glass display case in the middle of the shop features model versions of well-known F1 race cars. Toward the back, a display rack of racing jackets made by Period Correct are available for sale.
However, the feature in the store that draws the most attention is the white BMW E30 M3. With the original interior still intact, the 2.3L 4.0 cylinder 5-speed shines with all eyes on it.
"This is one of the coolest cars I've learned about," San Clemente High School senior Brandy Suarez said. "There's so much personality to it!"
Out the back of the shop is the garage area where the event is held. With not many attendants, but still a variety of cars to look at, the meet sported Porsche 911s, more M3s and 3-series, and even a McLaren 720s. Although attendees aren't fans of the rain, photographers are because of the unique lighting and texture that photos capture.
"Cars are pretty cool," Laguna Hills High School senior Ally Allen said. "But Tokyo Drift is cooler."
Despite being fairly small this time around, the Period Correct meet never fails to disappoint. No matter how big or how small, it's always the little things when it comes to this meet.