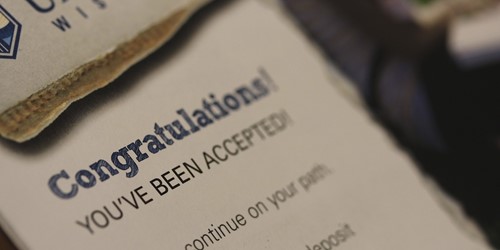 By: Sofia Helmle | Writer
March 8, 2019
The month of March has begun, and you know what that means — colleges are beginning to release their acceptance letters.
While some southern and higher acceptance rate schools have been releasing their exciting news starting all the way back in October, the month of March is the month that gets the AP and IB students itching to constantly check their emails.
The Cal State universities and the University of California schools are the colleges in the spotlight this month. With Cal Poly San Luis Obispo already releasing acceptances to a handful of students, and talk about UCLA decision coming out on the 16th, many of our seniors can't help but feel anxious.
"It's like you think getting into a school will make you finally feel content, but really it's only left me itching to hear back from the rest of my list," senior Andrew Mendoza said after being admitted to Cal Poly SLO this week.
University of Washington is another big college with decisions promised to be released by the 15th, with many of the Ivy Leagues following not far behind.
It may seem easy to let the fear of your future dominate your thoughts throughout the month seniors; however, don't let those thoughts get the best of you. With only three months left until graduation, focus should be put on spending quality time with those around you and soaking in the final memories of your four years here at SCHS.
There's nothing to do now but wait, seniors. Don't let the talk of others worry you about whether or not you've heard back! Senior Vivienne Meyerhofer sums up the best way to avoid anxious thoughts, explaining, "You're going to end up where ever you were meant to end up. Dwelling on that now will do nothing to determine your future."