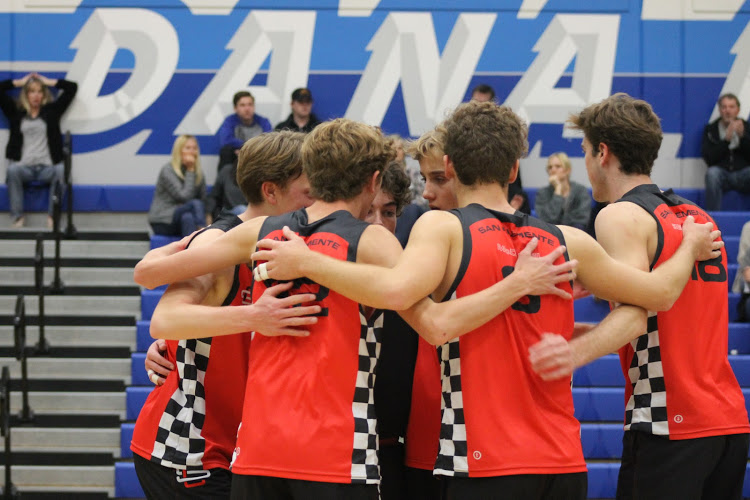 By: Julia Wilson | Sports Editor
March 30, 2019
Finishing the 2018 season with an overall record of 21-12, and a South Coast League second place title, the San Clemente High School Boys' Volleyball team was eager to continue and better this record. Losing 3 seniors, the team knew that it would take hard work to attempt to be South Coast League champions of the 2019 season. Under the legendary coach Ken Goldstone, who has led the program to 11 South Coast League Championship titles and 19 straight CIF appearances, and volleyball god Matt Miller, the team is eager to finish their season with a bang.
The 2019 roster consists of 1 sophomore, 5 seniors, and 7 juniors; and 9 of which are varsity returners. Key senior returners to the team include Marc Monier, Cole McDaniel, and Owen Hamro. Having a relatively young team, it is extremely impressive to see the Tritons dominating their league. As junior setter Brodyn Gruszczynski explained, "The season has been lit, the team is beasting out with this great group of bois; and we're gonna take it far… Gotta skibop our way up."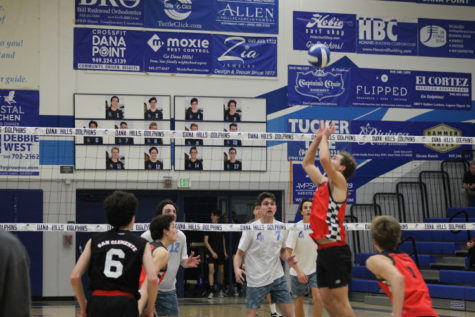 The team started off the season on the right foot with a 3-0 sweep of Carlsbad High School. They kept this winning streak going for 8 consecutive wins until an unfortunate loss in a battle against Newport Harbor High School. The boys also garnered an undefeated tournament win at the Foothill Varsity Tournament on February 22nd and 23rd, beating Beckman High School 2-0 in the final match.  More recently, the boys defeated San Clemente's rivals Dana Hills High School on March 12, and swept El Toro High School and Trabuco Hills High School 3-0.
When asked how the team prepares for their matches, junior opposite Nathan Streuter said "We watch film of the other team and our coach makes us do scouting reports so we know what to expect from the other team; we also go to Wahoo's before every match for a pregame meal."
On March 28, 2019, the boys swept the Dana Hills dolphins' at our home gym enhancing their record to an impressive 4-1 in league and overall 20-4, solidifying the Tritons opportunity for a league title. The Tritons are also currently 15th in the nation because of their incredible season this year and past years.
The boys have their next home league game against Tesoro High School on April 18, 2019. Come on out to support your boys!