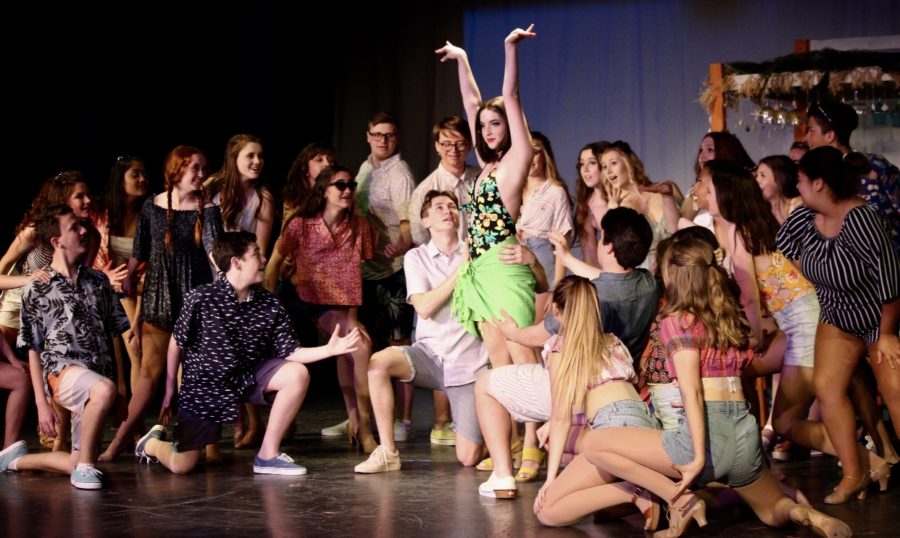 By: Lucy Terry | News Editor
May 16, 2019
As the end of the school year approaches, we've had to say goodbye to our favorite activities at San Clemente High School, including spirit assemblies, sports games, and, most importantly, the drama programs. The drama department put on a exceptional display of entertainment, talent, and fun this year, and they continued to achieve on a level that set these thespians and our program above the rest. This year, the drama department performed Boeing-Boeing, Mamma Mia!, and The Wedding Singer.
In September, the department presented the Wedding Singer, a story about a wedding singer named Robbie Hart who gets his heart broken and falls in love with a bride-to-be named Julia. Later on in December, they performed Boeing-Boeing, which is a witty play about a man and his three mistresses, who are all air stewardesses and have no knowledge of the other women. Most recently in the spring, the cast put on Mamma Mia!, a famous ABBA musical movie, which focuses on the story of a young bride, Sophie, as she tries to figure out who her real father is and grapples with the reality of her dreams.
Brianna Blashill, a senior at SCHS, attests that Mamma Mia! was her favorite play. "Working on Mamma Mia! was really fun!"  Blashill said. "I got to spend time with all of my close friends one last time and got to make some new ones in the process."
Not only were these plays hits among the student body and the San Clemente community, but they also resonated in the Spirit of the MACY Awards. The Music and Arts Commendation for Youth organization (MACY) was founded in 1969 to recognize and celebrate the accomplishments of musical theater high school programs. At the end of every school year, MACY holds the Spirit of the MACY Awards, in which hundreds of students from 44 local high schools are given awards for their achievements in musical theater. Many of our very own SCHS students were granted prestigious awards, such as Lainey Reyland taking home an Individual Best Award for her role as Rosie in Mamma Mia!. Reyland wasn't the only one with an award either; many of the cast members from The Wedding Singer and Mamma Mia! alike were given accolades for their performances.
Although there are no more plays to perform and the MACY Awards took place on April 29, the award season is not quite over for San Clemente High School Students. Similarly to the Spirit of the MACY Awards, the Cappies, which take place June 2, are dedicated to recognizing outstanding student performers and technicians from the various plays throughout the year. The Cappies allows for students to attend plays at different schools and write reviews on them with the chance of being published in the Orange County Register. At the end of the year, student critics vote on who they believe should be nominated, and nominees get the chance to win awards and perform excerpts of their show at the ceremony. Countless students in the SCHS drama program have been nominated for awards, demonstrating the excellence they have brought to both the program and the school.  
Senior and long time member in the drama program, Carlie McCleary, is immensely proud of her castmates. "I'm so proud of all my cast and crew mates who've worked so hard to reach these levels of success that they've achieved," McCleary said. "We don't do drama for the recognition, but it always feels good to see our teamwork and camaraderie pay off."
With graduation nearing, there may be no more plays to put on, but this isn't the end of the musical theater career for many in the drama program. Many will choose to participate in recreational or community theatre programs, or perhaps focus on it more intensively in college. Reyland is pursuing musical theatre at University of Northern Colorado, while McCleary has plans to study musical theatre at Stanford in the fall. "I'm so excited! I can't wait to develop as an actress while still going to school and growing as a human," McCleary said. "The arts at Stanford are so valued, and I love that I get to grow alongside the new programs that I get to be apart of." No matter what becomes of this crew after graduation, it is certain that their love for musical theatre, as well as each other, will never fade and that their memories of their time together at SCHS will keep their bond alive.