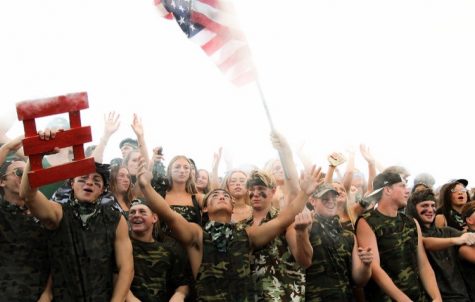 By: JP Hefft | Sports Editor   &   Andrew de Koeyer | Writer
September 6, 2019
On Friday August 30, 2019, the San Clemente Tritons took on the Torrey Pines Falcons for the first home game of the 2019 season at Thalassa Stadium. The performance of the new varsity team was highly anticipated and even doubted amongst critics and students around town. Coming off an impressive win against Oceanside 35-13 the previous week, the Tritons had a true opportunity to prove themselves going into Friday's game. Although the students were enthusiastic about the gameplay on the field, they were looking forward to the party in the stands that is Loud Crowd. 
As early as 5:30, flocks of students poured into the bleachers of the stadium, decked in camo gear to celebrate Military Appreciation Night. Hundreds of kids packed closely into the student section prepared to cheer on the Tritons.
"It was crazy to see the stands still completely filled," Loud Crowd leader Spencer Normandin said. "All the way from the freshman down to the seniors." The combination of hundreds of students dressed in camo and dozens of members of the military truly made the whole experience special and embodied the spirit of the town.
After a scoreless first quarter, the Loud Crowd turned on in the second quarter as the Tritons put 17 points on the board. Various chants, blasts from the fog machine, and blaring music erupted with each score. The energy of the audience continued all the way into the fourth quarter as the Tritons finished off the Falcons 31-7. 
On the other hand, the players' response to the Loud Crowd was a little more critical. When asked what Loud Crowd could do better in upcoming games, senior middle linebacker Trenton Brail said, "They should cheer during crucial points of the game, rather than random times."
With the opinions of the players and students, Loud Crowd in the upcoming weeks can improve and make an even more energized environment at Thalassa Stadium. The next home game is on Friday September 13, 2019 with a country theme. Pack the house SC!