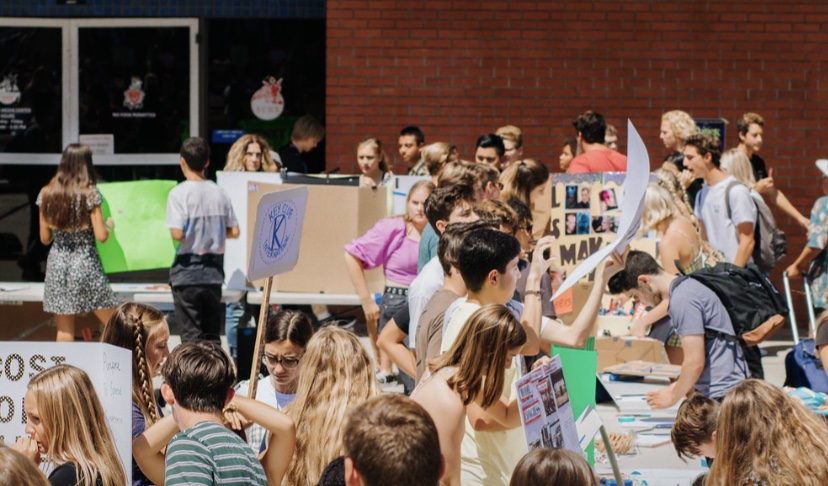 By: Piper Biolos | Writer  &  Kate Hedger| Writer
September 13, 2019
The returning San Clemente High School club, Make-a-Wish, led by club President Ryann Leff, raises money for kids with life threatening illnesses. The mission is to "create life-changing wishes for children with critical diseases," Leff said. "The children we serve are fighting for their lives, and their families are doing everything that they can do to help them in their battles." The club has been a part of the school for four years, and continues to make a difference in many children's lives every day. Members of Make-a-Wish joined in order to help children fight their battles.
"I really like Make-a-Wish," Leff said. "It gives kids something to look forward to and to keep fighting their own battle." The club has raised over $7,000 so far, primarily through fundraising. This included having booths at the Summer Fiesta and "Puttin' on the Glitz," both located on Del Mar Street. These booths along with collecting donations here and there ultimately achieved their goal of $7,000. With this money the club was able to make one of our very own Triton's wish come true.
That Triton student was Jack Hirsh, who was receiving chemo treatment at CHOC LA  when he noticed that some children and their families weren't able to afford all of their treatments. His wish was to donate money to the hospital. He was able to present a large check to the owners of CHOC LA  for approximately $8,000. This wish was important to the SCHS club because "It was so close to home, and many of the club members are friends with him," Leff explained. Making Hirsh's wish come true was inspiring to everyone involved. The club looks forward to spreading this same type of happiness and triumph for years to come. 
Make-a-Wish is a very important club on our campus because it deals with real life problems and is changing the lives of people in our community. It makes such a positive impact on our society, and every member leaves the club feeling as if they accomplished something amazing and purposeful. This school club follows in the footsteps of the well known non-profit organization, the Make-a-Wish foundation, where they grant wishes to thousands of kids with illnesses daily. This club is an amazing way to spend your time, helping children and young adults make their wishes come true.