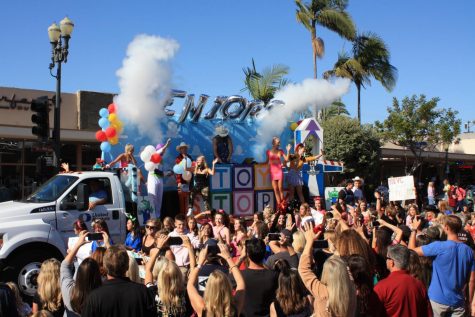 By: Maile Benumof | Writer
October 18, 2019
Four years ago, we started this crazy journey called high school. In only six short months, we're going to be done.
Every class will be taken, every grade will be recorded, and every test worried over will be in the past.
But until then, we will stress and procrastinate and complain about never getting enough sleep because of college applications and overwhelming amounts of homework. 
First semester is the epitome of all things stressful about school, and then some: the perfect hell. The beginning of the year is always an abrupt awakening; we come back from summer to classes, homework, and the social agenda falling right back into place.
Parts of it are great; the thrill of seeing people you forgot to hangout with during the summer and the return of football season are always perks. But then reality hits.
This is senior year, and with it come different challenges that we never had to struggle with in any other years, like college apps: the definition of senior hell. Some of the students thinking ahead better began working and planning over the summer, but the majority of seniors are faced with the reality that this semester they are either going to have to commit to Saddleback, or grind out the process and trust that all the work put in during the last three years will pay off right now. 
 "Teachers are assigning a lot of work while we still have to worry about college apps," senior Alexi Dragotto said. "So, every weekend for the first semester is not a 'weekend' but just another work day of homework and applications."
On the other hand, senior year heaven is only just beginning. The awareness that everything we're experiencing is occurring for the last time in high school is on the back of everyone's minds, the last home football game, last league title, last homecoming, and because of that  we are making the absolute best of every situation. 
 "I really like how close you become with people in your graduating class," senior Spencer Normandin said. "You begin to build new friendships that you'll never forget."
This sentimental approach is held by many other seniors, and we are all very grateful to be a part of the class of 2020 and to be able to share all of these memories together. 
The advantage of being a senior is that to some extent, everything is behind us, and because of that, we really get to enjoy being with friends and even become closer to people that we didn't know as well in previous years. We have been given the pleasure of being able to form these incredible bonds with really cool people, that hopefully will last us the rest of our lives. 
Senior year is upon us, and regardless of all of the stress about college and current classes, we most certainly are going to have the most fun we possibly can.