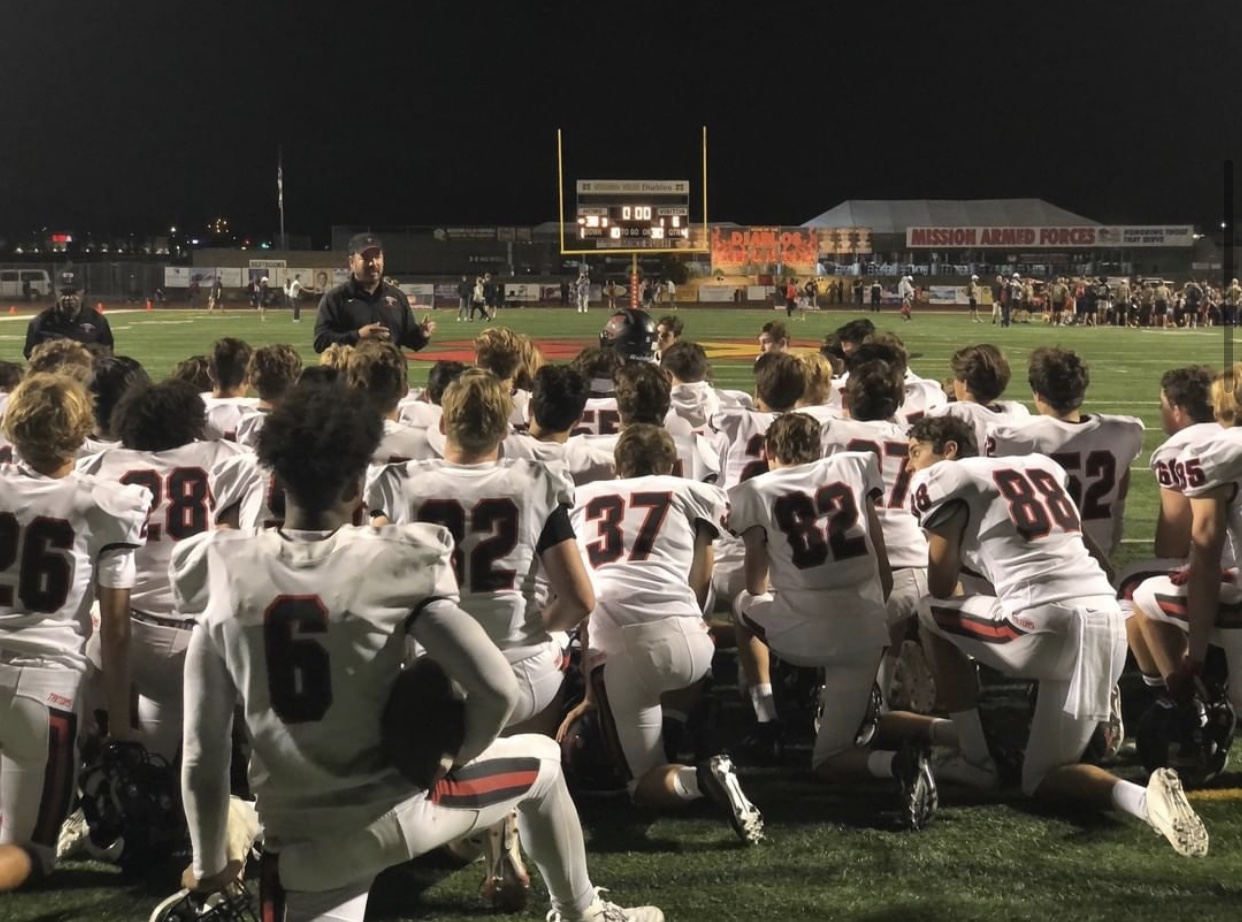 SCHS football after a 38-6 loss to Mission Viejo High School.
By: Abby Stewart | Sports Editor
October 25, 2019
Finishing off the 2018 season with a South Coast League title, the SCHS football followed that success with a second place finish in their league for the current 2019 season with a record of 8-2. 
During this season, the team has been highly successful in spite of matching up against very competitive teams. Some of their big wins include: Tesoro, Capo Valley, Oceanside, and El Toro. The Tritons only notched two loses, both against very strong opponents: Corona Del Mar and Mission Viejo. 
"The chemistry that we have built the last three to four years is what makes us good," senior starting quarterback Drayton Joseph said. "The bonds that we have made are unbreakable and we are a huge family."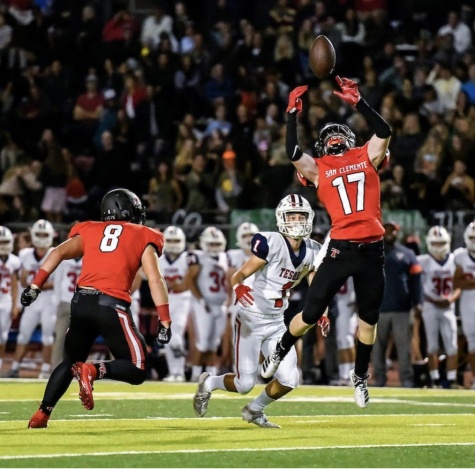 This year's team features 20 seniors, including stars Drayton Joseph, Preston Rex, Trenton Brail, Charles Clifford, and Cole Thompson. These seniors help lead their team into victory and carry the Tritons even during hard times.
"After league, we are hoping to go on and have a competitive run in the playoffs," junior Cole Batson said. "We believe that our team has a strong chance at winning a CIF championship this year."
Going into the league championship game against Mission Viejo on last Friday, October 25, the Tritons spent the week training to perfect their game plan and put them into a position to win.
"I think our coaches have done a great job all week preparing us and getting us ready for our game against Mission Viejo High School," Joseph said. "The only thing that is going to beat us is ourselves if we don't show up ready to play."
Despite their preparation, the team took a tough loss to Mission Viejo. The final score of the game was 38-6, capping off a second place finish in the South Coast League.
Now, as the 2019 season comes to an end, the team will be losing 20 seniors. However, the team should still have a strong season next year. Cole Batson, James Bohls, Ashton Whitsett, and Ryland Swarthout are skillful juniors that will continue to help lead their team in the 2020 season. 
On November 8, the boys will compete in the first round of CIF. Come out and support the football team as they compete in their last final games of the 2019 season!